---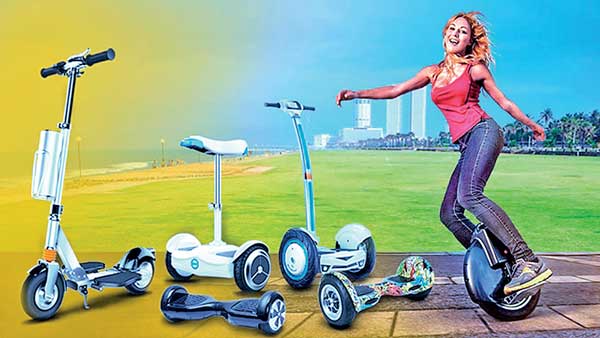 SALA Enterprises, a leader in Information & Communication Technology in the country's IT sphere, has introduced a range of hightech, innovative Airwheel electric scooters posed to revolutionize the Sri Lankan market. Manufactured by Airwheel Technology Holding, USA, these dynamic products are enormously popular amongst enthusiasts in many parts of the world.
The self-balancing scooter S, Z series and X series released earlier are particularly epidemic amongst Americans and Europeans. The S6 comes with an adjustable seat cushion. People tired of standing when riding this two-wheeled electric scooter can extend out the support bar until the height is suitable and comfortable to sit and ride. Moreover, this model's pedals are anti-knock, and therefore reduces pressure.
There is consensus that the 2-wheeled electric scooter is the easiest to learn. That's why many people opt for this model. However, there are various types in S series, S3, S6 and S10 included. With these selfbalancing two wheelers, Airwheel S series is the ideal choice for all customer demands. The S3 features a quick reaction time of 0.03s, fine-tuned for instantaneous and intuitive control. Battery main switch is added to S32-wheeled electric scooter, which cut off the power supply system, such as power source, smart chip, electrical machine and lighting effects. Airwheel S3T can be remote controlled with effective distance 20-30 m (non-obstacle), while enjoying hi-fi stereo sound effect of a wireless speaker compatible with all the mainstream mobile phones available in the market.
On lines of the Lamborghini, the streamlined design of S3 coupled with SUV metal holders, conforms to the spacecraft control structure that is ergonomically designed for the comfort of the rider. Compared to the other members in S series, S3 2 wheel scooter is the toughest, with good off-road performance.
With more flexibility, this machine is a good means of transport for cross-country travel as uneven roads are no challenge either. The intelligent control system of Airwheel S6 mini self-balancing scooter not only makes judgment in times of emergencies, but it can also monitor the security systems in real time and sound an alarm. The low gravity centre and mini appearance reduce wind resistance. You can stand or sit to ride, which is suitable for a wider range of application scenarios. The S3 is an environment-friendly, twowheeled electric scooter with driving force from a rechargeable and recyclable lithium battery, which does not emit any harmful and poisonous heavy metal elements or substances.
It is a pollution free, green product – a perfect travel tool. What's more, this product is equipped with 6-fold defense, comprehensive protection, namely over-discharge protection, short circuit protection, temperature protection, overcharging protection, over-current protection, and battery equalization. It can reach up to 16 km/h. Between the right and left handlebars, there is a 4-inch LED display screen which makes all information visible. An electric unicycle is an electric assisted vehicle. But, unlike the electronics in electric bicycle which augments the human power and leave the steering to the rider, the electronics in the electric unicycle helps the rider to balance and stabilize in addition to giving thrust.
This newly launched Airwheel X3 electric unicycle has both its strength and weakness. The obvious strength possessed by Airwheel X3 is that it is labor-saving as it's powered by battery. Apparently it's a green product that is the firm reason of its debut. Some people think it's much easier to learn riding on a motorized unicycle compared with a conventional man-powered pedal unicycle. Electric unicycles do have limits, namely its weakness. You can't lean too much forward or backwards, or there is a chance that you would fall.
After some practice, you will sense what the limits are. You will know what your margins of safety are. As you can expect, the performance is pretty modest. There is not a lot of room for batteries and big motor, so the range is somewhere around 18-23 km. SALA Enterprises markets a broad spectrum of new products and services in the information and communications Technology sphere at reasonable, affordable prices with a warranty and after-sales service. Prolink, Fujitsu, Delux, Huntkey, Emarc, Divoom, Edifier and Comet are some of the worldrenowned brands sold by SALA Enterprises