---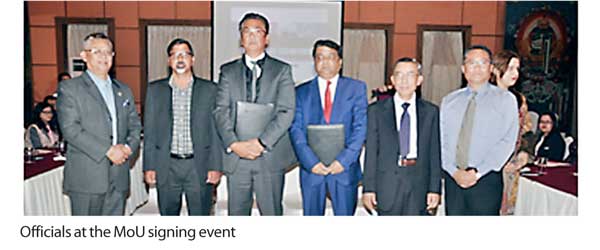 SAARC Chamber of Commerce and Industry (SAARC CCI) President Suraj Vaidya signed a Memorandum of Understanding (MoU) with SAARC Development Fund (SDF) CEO Dr. Sunil Motiwal during the SAARC CCI roundtable conference on 'Energizing SAARC: Creating synergies' in collaboration with the Federation of Nepalese Chambers of Commerce and Industry, at Soaltee Crown Plaza Hotel, Kathmandu, Nepal, recently.

The MoU was signed with an objective to contribute towards socioeconomic development of the SAARC region through project collaboration. Both institutions agreed to collaborate to leverage synergies in their skills, strengths and competencies to further strengthen their collaborative links.
Very recently, the SAARC CCI has brought forward a study wherein more than 120 potential projects are identified for investment in SAARC member states. The study highlights 15 to 20 projects from each member country of SAARC. SAARC Development Bank, China Council for Promotion of International Trade (CCPIT) and partners from the development sector have shown keen interest in partnering the launch of the study.Furthermore, the SAARC CCI and Faisalabad Investment Industrial Estate Development & Management Company have recently signed an MoU for developing the first-of-its-kind SAARC Industrial Park in Faisalabad, Pakistan. The industrial park will attract investments from all eight member states to form industrial units, with special incentives to promote trade and commerce across the SAARC.

Both the SAARC Development Fund and SAARC CCI agreed to communicate with each other on an ongoing basis for sharing information, experiences and potential areas of collaboration. Such sharing may include, inter alia, information about relevant international economic and social development programmes, new initiatives and opportunities in the region.
The SAARC CCI has a mandate to bridge the gap between the public and private sectors and to promote economic cooperation through trade liberation among the SAARC member states. The mandate of the SAARC Development Fund, established in April 2010, is to promote the welfare of the people of the SAARC region and to accelerate economic growth, social progress and poverty alleviation in the region, contributing towards regional cooperation and integration through project collaboration.

The event was graced by former Bangladesh Power Minister Prof. Mohammed Tamim, former Maldives President's Office Minister and Maldives Ambassador-designate to Japan Mohamed Hussain Shareef, former Pakistan Finance Minister Dr. Salman Ali Shah, PTC-India Chairman Deepak Amitabh, former Maldives Defence and National Security Minister Ahmed Mujuthaba, SAARC Secretary General Arjun Bahadur Thapa, SAARC Arbitration Council (SARCO) Director General Dr. Thusantha Wijemanna, Pakistan energy expert Aslam Khan, SAARC CCI Nepal Vice President Om Rajbhandari, SAARC CCI Bhutan Vice President Karma Dorji and SAARC CCI Executive Director Hina Saeed. Minister Janardan Sharma (Prabhakar) also was present.