---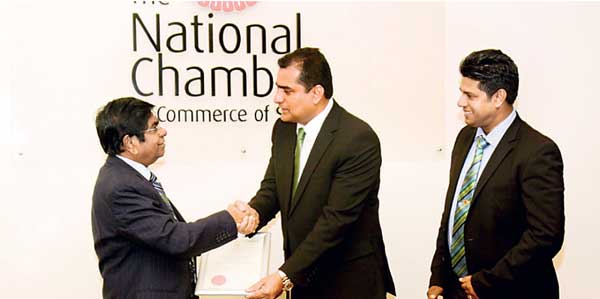 Ryder Holdings (Pvt) Ltd, a forerunner in Sri Lankan business arena, was recently selected as a partner of the National Chamber of Commerce, which is a rare and a prestigious opportunity for any commercial entity in the country.

The Award Ceremony took place on Tuesday (12) at the National Chamber of Commerce, Colombo. Thilak Godamanna, the President of the National Chamber of Commerce, Dr. Senaka De Silva, Chairman of the Ryder Group of Companies and Mr. Chamika Sellahewa, the Group Director (Finance) were among the distinguished guests who were present at the ceremony. Under the new partnership agreement with the NCC, Ryder Group of companies would embark on a joint venture towards improving the business standards in Sri Lanka. With its innovative thinking, Ryder Group will be distributing novel business strategies among budding entrepreneurs and businessmen, helping them to boost their businesses. The partnership would also attract much needed foreign direct investments (FDI) into the country that would benefit the entire society in the long run. In its expanded scope in both local and overseas businesses, The Ryder Group has performed exceptionally during the past years. Under its vast umbrella, Ryder has a strong hold in many lucrative industries such as aqua cultural products, furniture manufacturing and textile. It is the

proud owner of several star classed restaurants and resorts situated in the heart of Colombo and other cities in the island. It is also a gracious sponsor of several news and feature websites. Its flagship company, Ryder Holdings (Pvt) Ltd is a leading player in investment and finance. In recent times Ryder Group has expanded its business ventures into the international arena by forging strong partnerships with Successful commercial entities in Israel, China, Singapore and India.