---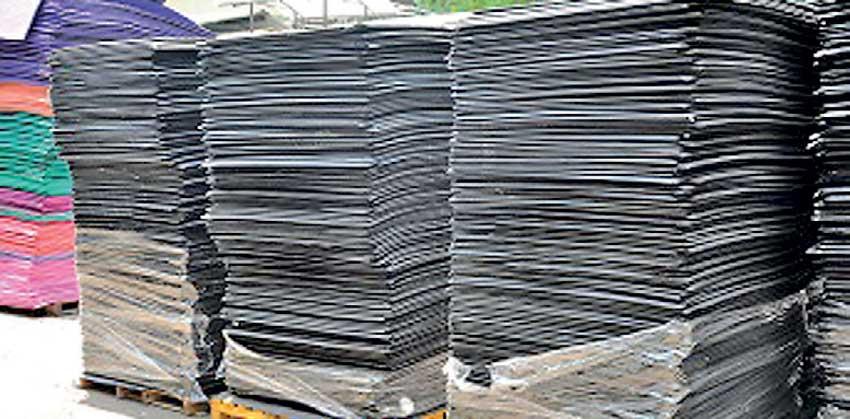 Charge that middlemen trying to influence govt. |to restrict raw rubber imports
Point out local rubber production is half the 150, 000 MT local demand
Manufacturers and exporters of rubber products in Sri Lanka charge that mafia middlemen are trying to artificially manipulate raw rubber prices by hoarding stocks and lobbying the government to control imports, so that their stocks could be sold at high prices.

The government last week announced that it was considering restricting the import of raw rubber used in local value added industries to encourage and promote local rubber cultivation and thereby give the growers a higher price.

In a meeting held at the Presidential Secretariat recently, it was proposed to develop a mechanism for rubber imports by local value addition companies to assess the amount of rubber that they procure from the local market.
However, limits on rubber imports could hamstring the industry in the near term, as local rubber production is nowhere near what the manufactures consume as production cannot be ratcheted up immediately and the sector woes run deep.

The local rubber production is half the local demand. While the annual demand for rubber from both Latex and RSS categories is 150,000 metric tonnes, the local production is only 77,000 metric tonnes forcing the rubber-based manufacturers to import the shortfall.
There are also certain local ribbed smoked sheet (RSS) types, which do not adhere to quality specifications of foreign buyers, hence requiring the local companies to import such to use in their production.

In a situation similar to the maize mafia operating for years in Sri Lanka, the middlemen in the rubber industry are also lobbying vehemently for the government to slap import controls so that their stocks could be sold to local manufacturers at higher prices. It has been estimated that middlemen have hoarded up to 90 percent of the rubber stocks at present. During the lockdowns in April and May, they purchased from the farmers at Rs.190 to Rs.200 a kilo, and more recently around Rs.240 a kilo and are trying to sell their stocks at around Rs.275 to Rs.300 per kilogram.

"They are trying to make a killing from both ends—the farmer and the manufacturer. When we try to purchase at the farm gate, we found middlemen had already bought the entire stock from the farmer," a rubber products manufacturer said.

Sri Lanka's rubber based products exports slipped 1.1 percent to US$ 866 million in 2019, and for the first six months Sri Lanka exported US$ 336 million worth of rubber products, 24 percent less than the same period last year, due to coronavirus lockdowns.

Sri Lanka's rubber sector woes are mostly associated with low productivity and yield caused by high cost of production arising from minimum wages, upkeep of plantations and shortage of rubber tappers.

Meanwhile, the significant drop in prices have challenged the commercial viability of the export crop, as in the current context rubber prices are half the levels seen during its peak in 2011 when RSS 1 was sold Rs.600 per kilogram.

Harvest in small estates in Sri Lanka is around 1,000 kilograms of rubber per hectare per annum while the same is between 1,000 - 1,500 kilograms in India, Myanmar, Vietnam and Malaysia.