---
As a rapidly developing country, Sri Lanka is home to many innovative companies that provide exceptional services to the country.
Established in 1993 as a small-scale local industry with a few employees, Royal Marketing (Pvt.) Ltd has come a long way within a short time and has been manufacturing a vast range of products which were previously imported.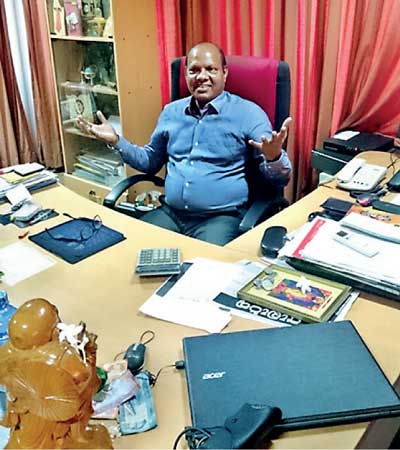 The company manufactures products like radiator coolant, air freshener, car wash, rubber grease, battery water, battery terminals and multiple washing liquid. In addition, Royal Marketing locally manufactures an innovative mosquito repellent made with 100 percent pure citronella oil.
Royal Marketing Managing Director, Deshamanya Royal Wasantha Perera stated that one of the main objectives of the company was to uplift the local industries, strengthening their productivity and thereby preventing the flow of money to foreign companies. With its vast range of products across many sectors, the company has already achieved this objective to a considerable extent. One of the products manufactured by the company that proves beyond a shadow of doubt that Sri Lankan industrialists are capable of matching international standards and providing a quality product is the fishplates manufactured by Royal Marketing.
Until recently, CGR or Sri Lanka Railways imported fishplates, also known as splice bars or joint bars from overseas. In railway terminology, a fishplate is a metal bar that is bolted to the ends of two rails to join them together in a track. As an integral item, importing fishplates from overseas meant that the CGR had to spend a considerable amount of money. However, having obtained the technology and the knowledge, Royal Marketing commenced manufacturing the product locally, providing a high-quality value-for-money product for Sri Lanka Railways.
Royal Marketing is also the pioneer in producing insect repellent using citronella oil. At a time when citronella is exported to foreign countries, which conduct research on its properties and use it in several products, citronella is a largely overlooked resource within Sri Lanka. However, Royal Marketing, once again obtained the technology and the industrial knowledge necessary to transform a largely neglected plant into a valuable product. The Royal Citronella Oil can effectively prevent mosquitoes, cockroaches, ants and other insects from invading your house. As the product is manufactured using 100 percent pure citronella oil, it does not have any negative impacts on the health of your family members.
What is unique about Royal Marketing is that quite apart from locally manufacturing these essential items, the company handles both packing and distribution of its products. The products are distributed around the island and are available anywhere, with the exception of the Royal Citronella Oil, which is, at present, found only in supermarkets.The company also produces plastic bottles in varying shapes and offer them to small-scale entrepreneurs who would then use these bottles to sell air fresheners, various oils and ointments and other products.
Perera also stated that the company is now manufacturing a toothbrush, branded as 'Kick'. The toothbrush is being distributed to Sri Lankan hotels, where toothbrushes are provided for the comfort and convenience to the guests.
Having begun with a small number of employees, the company now has nearly 200 employees and also provides indirect job opportunities to local families. The company also takes an active interest in its employees and Perera stated that the company provides support to its employees to fulfil their housing needs, etc. Royal Marketing is also a benefactor to the community, providing support to temples, distributing goods to those in need in the area, etc.
The company has expanded its local production capacity and intends to establish a plastic industry in the Kalutara Industrial Zone. The venture is expected to provide numerous career opportunities to unemployed individuals, particularly the youth of the area. Perera also stated that the company will continue to provide high-quality products at a competitive price in order to develop the local industries and to support the national economy. He also stated that the company will continue to introduce innovative products manufactured locally to the market, hence helping the government to reduce the import exchange cost.