---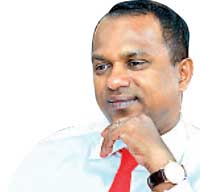 Market leader in tiles and sanitary ware, Royal Ceramics Lanka PLC will be opening stores in the Maldives and Pakistan, after experiencing success in Australia.

"Two more store openings in Pakistan and Maldives will take place in near future," Royal Ceramics Lanka Managing Director Nimal Perera said in the annual report.

He added that the Australian operations will be expanded by adding four more showrooms.
The group also exports products to Japan, the Middle East, North America, South Asia, Singapore, New Zealand and Fiji.

The group's export revenue fell 6 percent year-on-year to Rs.1.48 billion due to increased competition from low-priced products from India and China.

Tiles, ceramics and sanitary ware made up 74 percent of the group's export revenue.
Perera said that the global oil price slump has helped to considerably cut production costs of tiles and sanitary ware.
The group commands over 80 percent market share in the local market, helped by import tariffs ranging between 80-100 percent. However, Royal Ceramics Lanka group also imports certain products for sale.