---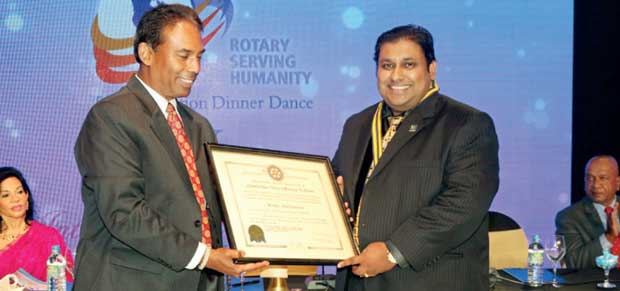 Outgoing President Sathyajit Seneviratne handing over Rotary Club Colombo West Charter Certificate to newly inducted President Roshan Perera
The Rotary Club of Colombo West recently held its 56th Installation event at a grand ceremony held at the Colombo Hilton Ballroom dinner dance. The Chapter is the largest in Rotary District 3220, pioneering many important projects for the community in general ranging from provision of hydro electricity, shelter, eye clinics, demining, donation of wheelchairs, computer training and solar lighting.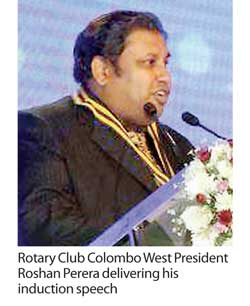 Entrepreneur Roshan Perera was elected President with a highly distinguished board of directors to ably support him. The new president together with the new board directors called to serve Rotary Club of Colombo West each fulfils a unique and important role. The Club President will set goals for the club, support and create values for members and lead all meetings, while being actively involved in all club initiatives.
"Our club is extremely fortunate to have the dedication of our visionary officers for 2016 – 2017. They are highly accomplished leaders in our industry who not only help our club tremendously but represent Rotary nationally and internationally with great pride," said Perera, who will be the youngest to serve the Rotary Club of Colombo West. He is also recognized as the youngest Major Donor in District 3220.
The gala evening saw an abundance of entertainment with a beauty pageant, music by Misty with the gorgeous Thanuja keeping the audience spellbound throughout. Rotary Club was chartered in August 1961 at Galle Face Hotel with a dinner dance and is entering its 56th anniversary of continuous service to the community.
Perera is also a business magnate, investor and philanthropist. He was CEO of Dainichi Creations (Pvt.) Ltd in 1996, which he geared to make it into Asia's largest ceramic figurine manufacturing company. He eventually owned the company employing over 5000 staff. The company was the flagship supplier to multinationals like Disney, Hallmark and Walmart.
At 22, he was considered the youngest Sri Lankan billionaire entrepreneur to run organisations with over Rs.10 billion turnover. By 2001, his business empire was diversified into ceramics, packaging, freight forwarding, clothing and fashion, nightclubs and entertainment, media and investments.
His flagship company Platinum Holdings is considered to have investments of over US $ 200 million diversified in countries from Australia to India.