---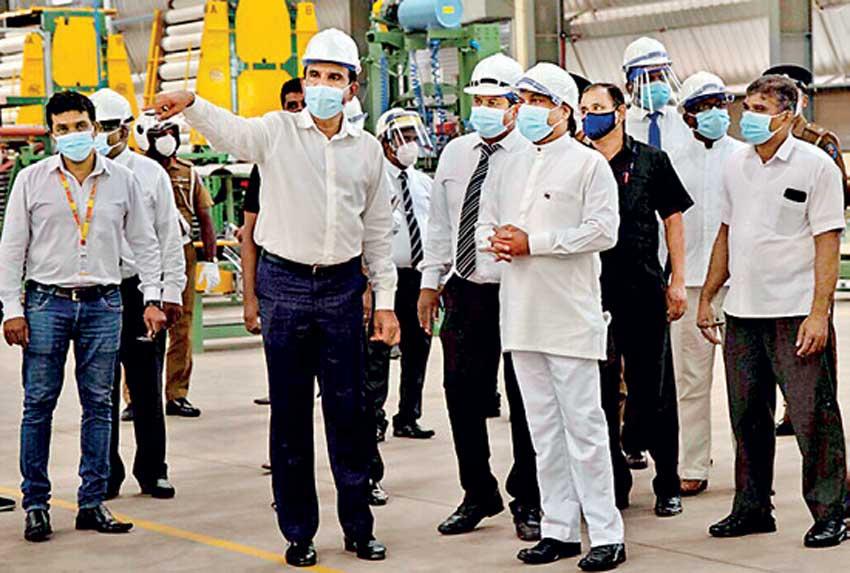 Minister of Industries, Wimal Weerawansa along with Nandana Lokuwithana - Chairman of Rigid Tyre Corporation inspecting the state-of-the-art manufacturing plant
Phase 1 of the project with US$ 100mn completed
Phase 2 expected to be completed by March next year
To be the largest factory manufacturing passenger car radials in SA
To source all the necessary rubber for tyre production locally
Set to generate over 3, 000 employment opportunities
Rigid Tyre Corporation (Pvt) Ltd built with an investment of US$ 250 million is slated for opening in mid-January 2021.

The state-of-the-art, fully integrated manufacturing plant was visited by Minister of Industries, Wimal Weerawansa last week for a special inspection.

The construction of Phase 1 with an investment of US$ 100mn has been completed while Phase 2 will be completed by mid-March 2022.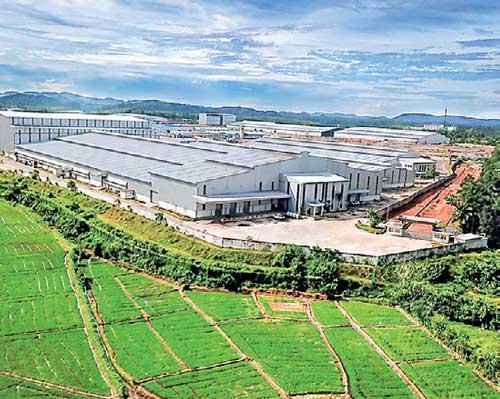 Rigid Tyre Factory nearing completion

The landmark project is the first and only of its kind in Sri Lankan and is tipped to be the largest such facility in the whole of Southeast Asia manufacturing passenger car radials (PCR) including specialised category for SUVs, two-wheelers, three-wheelers, trucks, buses and solid tyres seamlessly combining local talent with sophisticated European technology.

This export-oriented manufacturing plant with its impressive production capacity is expected to bolster the economy by revitalising exports at this decisive juncture strengthening government's efforts to stabilise local currency in the face of the global pandemic.

It is also expected usher in thousands of new job opportunities, both directly and indirectly, once operations commence mid-January next year.

Elaborating on the project, Executive Director Dhammika Lokuwithana said, "It is the largest FDI in the last 10 years; it will also be one of the country's foremost exporters when the production commences. Besides rejuvenating the export sector which has suffered due to different crises over the past few years, this project will also serve to revive the local rubber industry which Sri Lanka was once world renowned for."

"We intend to source all the necessary rubber locally which will empower the native rubber farmer, generate new job opportunities in thousands, and more importantly, the country will benefit from exposure to European technology which is the unrivalled forerunner in the market in terms of performance, efficiency and environmental consciousness," he added.
Chairman of Rigid Tyre Corporation, Nandana Lokuwithana meanwhile stated that an investment of this magnitude being made in Sri Lanka may send the right message to discerning foreign investors, giving them a sense of reassurance, to follow suit.

"Investments such as this set a good precedent, cementing Sri Lanka's position as a haven for investors globally. This falls very much in line with the government's vision to position the country as an industrial hub in the foreseeable future."

Lokuwithana is a distinguished entrepreneur of global standing heading the Ceylon Steel Corporation Ltd & Onyx Group in the UAE with a host of subsidiaries including a steel fabrication company.

His other investments include Marriot Al Jadaf Hotel in Dubai, up-coming state-of-the art Cement Grinding Plant in Mirijjawila Hambantota slated to be commissioned in May 2021 and Marangoni Industrial Tyres Lanka (Pvt) Ltd.