---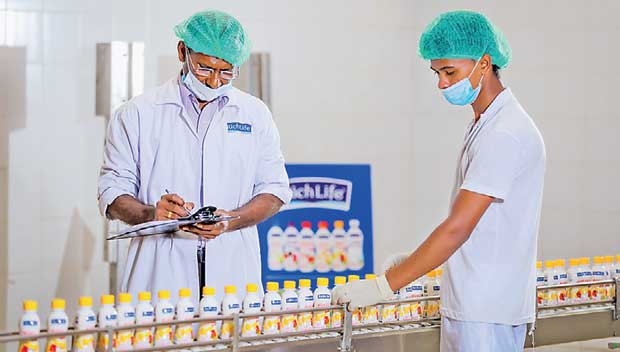 The pioneers of drinking yoghurt in Sri Lanka, Richlife, recently launched the nation's first ever drinking yogurt with probiotic and real fruit.
It comes in a range of six flavours that appeal to both children and adults – strawberry, mixed berry, mango, orange, classic and vanilla. With the launch of drinking yoghurt with real fruit, Richlife not only offers consumers taste and variety, but more importantly, the goodness of Probiotics.
Probiotics are beneficial microbes that live in the digestive tract and are live microorganisms that keep a person healthy by overpowering harmful ones that cause intestinal infections. Probiotics keep the human body, especially the stomach functioning smoothly. Probiotics also assist in the reduction of serum blood cholesterol levels, inflammatory bowel disease and colorectal cancer, according to recent research. An estimated 100 trillion microorganisms representing more than 500 different species inhabit every normal healthy bowel and keep pathogens or harmful microorganisms in check.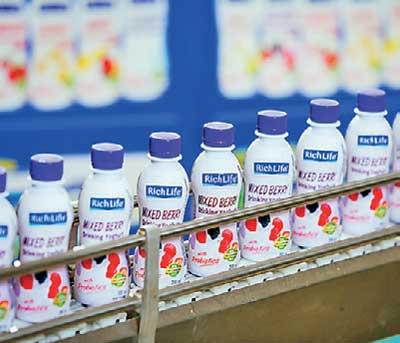 Apart from probiotics, Richlife drinking yoghurt contains carbohydrate, fat, protein, minerals and vitamins required to maintain good health and is a good source of potassium, phosphorous, riboflavin, iodine, zinc and vitamin B5 and B12 that the body needs to keep red blood cells and the nervous system functioning well.
This is all the more important for vegetarians as Vitamin B12 is mostly found in chicken and fish and they miss out. So, more consumption of Richlife drinking yoghurt could help to close the nutrient gap. Nutrition analysis has revealed that 200ml of drinking yoghurt with probiotics provides reasonable amounts of an adult's daily requirement of Vitamin B12.
"When you see the statement 'with live and active probiotic cultures' on the container it means Richlife drinking yoghurt has the required amounts of probiotics to keep your stomach functioning smoothly. We test our product at different periods during its shelf life, right to the end, to ensure the live probiotic cell count in Richlife drinking yoghurt to bring the best of quality, safety and health benefits to our consumers" assured Lakmali Gallege, the Group R&D Manager at Renuka Foods.
She added, "We have an extensive range of dairy products including fresh, flavoured and pasteurized milk as well as yoghurt, curd and cheese. Richlife was the first to introduce drinking yogurt and now adding to our wide array of dairy products is our drinking yogurt with real fruits and of course probiotics. It is excellent to quell hunger pangs while on the go."
Richlife has been an innovative manufacturer of dairy products since its inception, and was the first to introduce fresh milk in Tetra Packs. Richlife Dairies was acquired by Renuka Foods in 2012. There are 7,000 dairy farmer families who benefit from the company's milk collection operation. Not only is Richlife drinking yoghurt made of milk from Sri Lanka's own dairies, Renuka Foods maintains an excellent R&D team and its drinking yoghurt is manufactured under ISO 22000-certified quality controlled systems for food safety.