---
Sri Lanka's Finance Minister has distanced himself from a company that assembles motor vehicles in Sri Lanka saying he has no personal interest in assisting an individual company despite some media reports suggesting otherwise.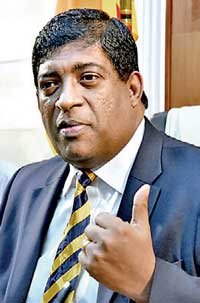 Minister Ravi Karunanayake in a statement said the recent decision taken to release eight containers of spare parts belonging to a company called Vehicles Lanka (Pvt) Ltd. from the Customs was done in line with a Cabinet decision based on legal advice by the Attorney General.
According to the Finance Ministry Vehicle Lanka (Pvt) Ltd. has been engaged in assembly of vehicles utilizing used spare parts since 2005.
However, the company had encountered numerous legal barriers to carry out their operations and as a result had filed over 20 court cases and Fundamental Rights applications in the Supreme Court.
One such Fundamental Right case filed in 2012 has been amicably settled with the Transport Ministry and as a result the company was given permission by the then Commissioner of Motor Traffic to engage in vehicle assembling.
However, since this decision failed to remove the barriers for its operations, the company filed a case against the Commissioner of Motor Traffic.
The Supreme Court decision on the last Fundamental Rights case No.304 filed in 2011, was delivered in the year 2015, and the Cabinet appointed a Sub- committee appointed in this regard under the chairmanship Transport Minister Nimal Siripala de Silva after having considered the legal opinion from the Attorney General decided to give a three-year concession to the company to be engaged in vehicle assembling business on the condition of withdrawing all the pending court cases.
"The Finance Ministry, as these actions come under its purview, in October 2016 submitted a paper to the Cabinet of Ministers for its consideration but not due to any personal interest on the part of minister of Finance Ravi Karunanayeke to help an individual company," the Finance Ministry statement noted.