---
Finance Minister Ravi Karunanayke will leave for London today to receive the 'Finance Minister of the Year for Asia Pacific - 2017' award bestowed on him by the 'The Banker' magazine, a Finance Ministry statement said.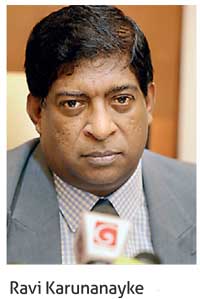 The award ceremony is scheduled to take place this Friday (March 24).
The Banker, published in London, selected Karunanayake for this award, for his efforts to best manage, stimulate growth and stabilize the economy of Sri Lanka.
'The Banker' said Karunanayake worked to avoid a balance of payments crisis, replenish reserves and rebuild confidence among international investors.
In addition, the magazine noted that Karunanayake was able to drop the country's budget deficit to 5.4 percent in 2016 from 7 percent in 2015 after he assumed office in January 2015.
According to The Banker, Karunanayake was instrumental in inculcating in the minds of the people that paying taxes is not something bad, but a must for the country.
As a result, Sri Lanka's tax records are said to have grown from 700,000 files in January 2015 to 1.4 million in 2017.