---
Finance Minister Ravi Karunanayake appears to have moderated his views on the Central Bank even further as he recently expressed mixed sentiments on how far he is willing to go to clip the wings of the country's monetary authority.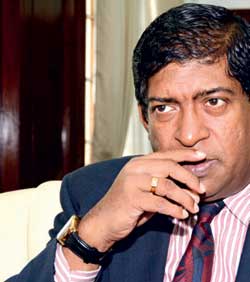 The draft of a new Foreign Exchange Bill transferring foreign exchange policy powers to the Finance Ministry was gazetted recently, and the 2017 budget calls for legislating a new National Payment Platform as well, taking further powers away from the Central Bank.
The Finance Ministry is also attempting to influence lending patterns in the banking industry.
When queried whether the Foreign Exchange Bill was the beginning or the end of the Finance Ministry taking over the functions of the Central Bank, Karunanayake's response was ambiguous.
"Well, you can interpret it however you want, but it's a beginning of an end of a haphazard manner that was going on. It's a more collective approach," he said.

Civil society leaders are criticising that it would not be a collective approach judging by the manner in which the legislation was drafted without collective consultation, and are urging that political influences should be kept separate of neutral money matters. In reply to whether more legislation taking over Central Bank powers will materialise, Karunanayake said "not necessarily".
Considering his policy directions in the past 6 months, it appeared as if Karunanayake would not stop short in his efforts to browbeat the Central Bank to take full control of its powers. (CW)