---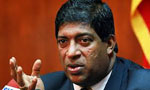 No attempts at new appointments have been made to state-owned enterprises since the portfolio changed from the Finance Ministry to the Public Enterprise Development Ministry, the Finance Minister said.
"There are reports that I have appointed some boards and that Minister Kabir Hashim has appointed another. He told me that no such thing was happening. I believe him. Journalists are trying to promote separatism. Those who will lose are the papers, not us," Ravi Karunanayake said.
Speaking at a press conference at the Finance Ministry yesterday, Karunanayake said that he had received a strong reply from Hashim when inquired of the allegation.
"I asked him and the statement he made was that this was an utter fallacious voyage of discoveries," Karunanayake added.
When asked if Hashim could be lying to him, Karunanayake said that there was no such culture in the new government.
Some of the entities Hashim has been alleged to have attempted to appoint his own boards are Sri Lanka Insurance Corporation, Lanka Hospitals and Hilton Colombo.
However, media reports said that the boards had refused to step down, while sources within the companies told Mirror Business that Hashim had informed them that he would not stop until the boards had either stepped down or been sacked.
Hashim had recently expressed to the media his displeasure of the assignments, saying that it was the tradition for previous appointees to step down and make way for new appointees of the new minister.
However, the laws to go along with the changes to ministerial portfolios have not yet been gazetted, placing the companies legally under the Finance Minister's purview. Further, President Maithripala Sirisena has issued an order barring any ministry from changing the boards of state enterprises without consulting a joint Presidential-Prime Ministerial committee. (Chandeepa Wettasinghe)