---
By Chandeepa Wettasinghe
While dismissing fears of a property bubble, Fitch Ratings Lanka said Colombo's luxury apartment buildings may end up becoming incomplete 'ghost projects' if developers continue without strong pre-sales in a market that is currently in oversupply.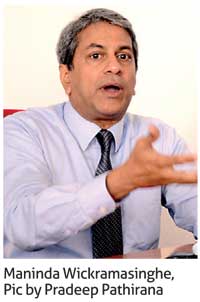 "The question is whether the developer has a cushion? Does he have a fall back? Now in that scenario you could have ghost projects; meaning someone who has a skeletal structure up, cannot complete it, and banks aren't likely to give you funding when there's a glut," Fitch Ratings Lanka Managing Director Maninda Wickramasinghe said.
He noted that most developers have low capital bases and are constructing based on pre-sales.
"If your pre-sales are 40-50 percent you're fine, you can complete it, and slowly you have to sell the rest. But on the other hand, if there is an oversupply and there's no demand, you get into trouble," he added.
Currently, most apartment developers boast that they have pre-sold most of their units. However, the information asymmetry that exists prevents the authorities or the public from knowing how shaky the ground is, analysts point out.
Wickramasinghe said concerns are mostly being raised over the luxury-end, since there is plenty of demand for affordable housing. He noted that luxury apartment developers may have to either adjust their prices downwards, or risk having uncompleted buildings. He stressed that there are no signs of an asset bubble, considering the fact that the banks are not highly exposed to the luxury apartment segment. "There's no major bank exposure. When you say bubble, there's heavy leveraging and bank exposure. When you say collapse, you have high price and no demand. I don't think that's the case here," he said.
However, all three big rating agencies played a controversial role during the US subprime crisis, providing rosy ratings for highly risky assets, which ultimately led to the 2008 financial meltdown. A majority of Sri Lanka's high volume of credit extended is going towards construction, although only around 10-15 percent of it is going into the construction apartments, according to construction industry experts. However, Wickramasinghe admitted that the Central Bank's concerns about credit taken for other purposes being channelled into purchasing risky assets, such as luxury apartments, are valid. "That's one thing they're looking to see, if there is that kind of exposure; and if so, then they will have to take some macro prudential measures where they can taper it and prevent overheating," he said. Analysts are worried that such loans may have been used to place down payments on luxury apartments, driven by sentiments of a further appreciation of asset prices and future capital gains, which may not materialize if market prices drop or if the buildings are not completed. Some analysts have also pointed out that the apartment industry is ripe for money laundering operations—for both developers and sentiment-driven buying and selling.