---
Ratan Naval Tata, (born 28 December 1937) is an Indian industrialist, investor, philanthropist, and a former chairman of Tata Sons. He was also chairman of Tata Group, from 1991 to 2012, and again, as interim chairman, from October 2016 through February 2017, and continues to head its charitable trusts.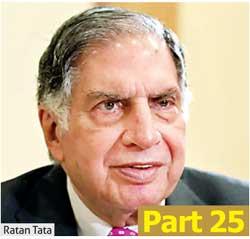 Ratan is the son of Naval Tata. He was the great-grandson of Tata Group's founder, Jamsetji Tata. He was also the nephew of Jehangir RatanjiDadabhoy ('JRD') Tata, the group's fourth chairman, under whose leadership the Tata Group had become a major conglomerate with assets of over US$5 billion.

His parents separated in 1948 when Ratan was 10, and he was subsequently raised by the widow of Sir Ratanji Tata, his grandmother. He studied at the Campion School followed by Cathedral and at Bishop Cotton School in Shimla. In 1955, he graduated from Riverdale Country School in New York City.In 1959, he received a B. Arch. degree in Architecture with Structural Engineering from Cornell University, and in 1975, attended anAdvanced Management Program of Harvard Business School.

Ratan had the misfortune to step into shoes of giants. In contrast with his illustrious and dashing uncle or great grandfather, he was a reserved young man who had been happy studying in the USA. In 1962, after graduating, he was requested to return to India and join his family business. He came down to India and started working on the factory floor at Tata Steel.

In 1971, he was appointed as the Director of National Radio and Electronics, which was in a bad state of 40 percent losses and only 2 percent of consumer market share. But within 3 years Ratan took control of the company, he gave its statistics an upward turn, he took the company from 2 percent of market share to 25 percent and with substantial profits.

In 1981, JRD named Ratan as the chairman of Tata Sons. This move opened up a clear route for him to become chairman of the Tata Group at a later date. However, it also created a revolt among other seniors. As reported later in Outlook Business magazine, Ratan recalled that his uncle, JRD, 'came to my rescue and slowly turned around the whole conversation.'

As early as 1983, Ratan Tata spelled out his strategic vision for the Tata Group's future, which included a move into high-technology industries, growth through appropriate mergers and acquisitions, and a leveraging of group synergies.

In 1991, Ratan Tata became chairman ofTata Group and faced a formidable management task: each of the established directors of the main Tata divisions was like the ruler of their own kingdom; some believed that they were better placed to run the group than Ratan Tata himself. The resignation in 1993 of Russi Modi, head of Tata Steel, was seen by many as a sign that Ratan Tata had succeeded in establishing his leadership of the group.

As a starting point, Ratan rationalised the group's activities, moving out of areas such as oil mills,cosmetics, cement and pharmaceuticals. It was the time that India began its process of economic liberalisation. As former Tata Sons executive director Alan Rosling told Management Today in 2009, "It became obvious that, whether or not Ratan ventured beyond its borders, it would face foreign competition. It will be a strategic imperative of many of our businesses to internationalise, or we would struggle to remain competitive."

Ratan took up the challenge and launched what would become a US$ 20 billion campaign of global acquisitions. In 2000, Tata Tea (now Tata Global Beverages) acquired the UK's largest tea company, Tetley. In 2004, Tata Motors bought the heavy vehicle division of South Korea's Daewoo Motors.In 2005 Tata Steel acquired Singapore-based NatSteel, and in 2007 took control of Corus, the Anglo-Dutch steel giant.In 2008, Tata Motors bought UK-based Jaguar Land Rover from Ford and stunned the car industry with its success in turning the company around.

After Ratan's appointment, The Tata Group reached absolutely new heights which had never been experienced by this group earlier. Under his direction, the company went through several different entrepreneurial ventures.

Ratan converted 'the corporate commonwealth' of different Tata-affiliated company into one cohesive company. The acquisition of Jaguar Land Rover and Corus, turned Tata from a major India-Centric company to a global business name. His major releases have been Indica and Nano in India.

Today, Tata Group's 65 percent of the revenue comes from abroad. According to Outlook Business, when Ratan Tatarelinquished the chairmanship of the group in 2017, group revenues were 40 times greater than in 1991, and net profit had increased fourfold.

What lessons can we learn from Ratan Tata?

1. Be a visionary
When Ratan Tata joined the group, it was barely doing any business outside India. Even though many opposed him, he maintained that the company had to go global. Today two-third of Tata's revenues come from overseas.

2. Be humble
He is known for his humility, and there are countless examples. He started out working as a blue-collar employee for Tata Steel. He is loved by all employees.

3. Never give up on values
Public Safety and welfare have always been one of the main core values of Tata. The Tata Group has always been known for upholding these values and when Ratan Tata took the reins. As a result, Tata has become one of the most trusted brands the world over.

4. Take calculated risks
As a leader, one needs to have the foresight and the capability to take calculated risks that can take the company to new heights. Once he said, "I don't believe in making right decisions. I take decisions and then make them right." From acquiring the Jaguar and Land Rover businesses from Ford to taking over Corus, the second-largest steel maker in Europe, Ratan Tata made significantly big moves and has managed to make things work in his favour.

5. Motivate others
Ratan Tata had the ability to inspire and motivate others which is very important for a leader. Being a great leader isn't about checking all the right boxes but is also about making sure you inspire, drive and spark your drive-in others.

6. Be open to criticism
As per a famous quote by Ratan Tata, "Take the stones people throw at you and use them to build a monument. Whenever you endeavour to do something you like, you won't always receive appreciation. All you need to do is just ignore all the criticisms and focus on your work."

7. Use creative tendencies
Addressing a group of business graduates, Ratan Tata said: "Be creative rather than being reactive. A person should not have a tendency to react only when the situation demands but the person should be able to be anticipate what will happen in future and be able to adjust himself to it in present. An entrepreneur who exercises such quality is always successful."

8. Don't put all your eggs in one basket
Ratan Tata believed in investing in different companies so as his investment is always safe. He acquired a stake in the growing Chinese giant Xiaomi and leading e-commerce site Snapdeal. He believed that investing in different companies ensures that your investment is safe and grows no matter what the situation of a particular industry is.

(Lionel Wijesiri is a retired company director with over 30 years' experience in senior business management. Presently he is a freelance journalist and could be contacted on lawije@gmail.com)