---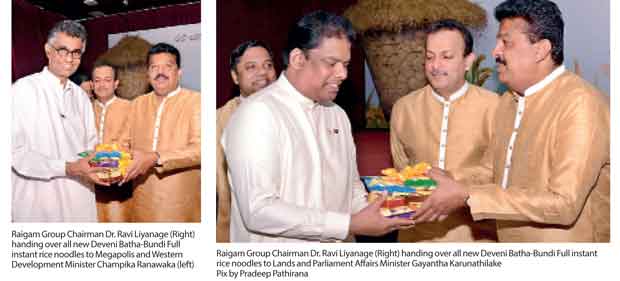 Raigam recently celebrated its fifth anniversary of launching the Raigam Deveni Batha, and launched its revolutionary 'Deveni Batha-Bundi Full' instant rice noodles alongside the celebrations at the Sri Lanka Foundation.

Megapolis and Western Development Minister Champika Ranawaka was the chief guest and Lands and Parliament Affairs Minister Gayantha Karunathilake, Raigam Group Chairman Dr. Ravi Liyanage, Raigam Group Deputy Chairmen Ravi Theodore and Group Director Jagath Dharmajeewa were also present.

Raigam assures that the 'Bundi Full' noodles contain only rice flour and water, and the single portion pack contains separate sachets with seasoning, natural flavours, minced soya and dehydrated vegetables.

This is a delicious and complete meal which can be prepared in just a few minutes, and most importantly, it does not contain Mono Sodium Glutamates (MSG) or artificial colouring as used in other similar products in the market.

It is evident with the ingredients disclosed in the back panel of the wrappers of similar products available in the market, that they have added many chemical ingredients to maintain taste, shape and the flexibility of noodles. But Bundi Full is a unique product free from such harmful chemical ingredients and artificial colouring. Further, Bundi Full is made of 100 percent rice that contains 'Squalene', an ingredient that controls the cholesterol level in the body.

Raigam Deveni Batha-Bundi Full is presented in six different varieties, namely: Chicken, hot masala chicken, devilled chicken, chicken kottu, seafood, and curry.