---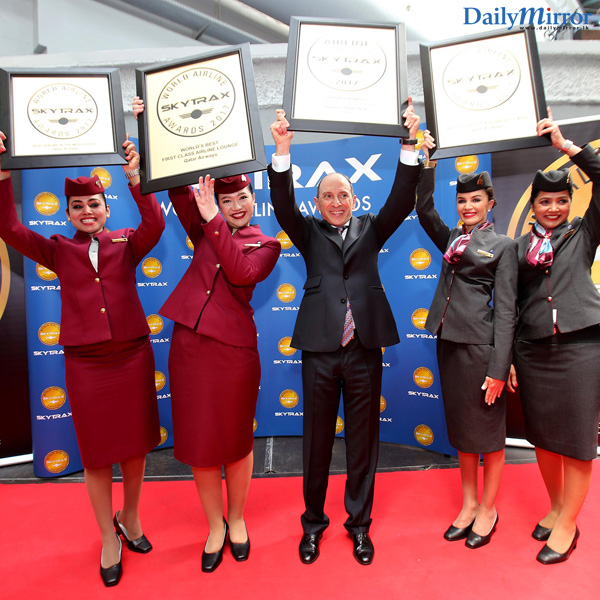 The award-winning airline collects host of awards, including Best First Class Airline Lounge, Best Airline in the Middle East and World's Best Business Class
The national carrier of the State of Qatar continues to demonstrate growth, innovation and excellence with the clear message of always putting the passenger first through product innovation and customer experience
Qatar Airways is pleased to announce that it has again been named as Airline of the Year by the prestigious 2017 Skytrax World Airline Awards, held today at the Paris Air Show, the fourth time that Qatar Airways has been given this global recognition as the world's best airline.
In addition to being voted Best Airline by travellers from around the world, Qatar's national carrier also won a raft of other major awards at the ceremony, including Best Airline in the Middle East, World's Best Business Class and World's Best First Class Airline Lounge. Qatar Airways' home and hub, Hamad International Airport, was this year also rated five-star by Skytrax, one of only five in the world to be given this recognition.
Qatar Airways Group Chief Executive, His Excellency Mr. Akbar Al Baker, said: "For Qatar Airways to be named the World's Best Airline particularly at this critical point in time, is a significant testimony of our passengers' belief and trust in our unwavering commitment to deliver only the best. This award is also a reflection of the hard work and dedication of every employee at Qatar Airways. Our recognition at Skytrax this year is especially important as these awards are voted by travellers. To them I offer my sincere thanks, and I look forward to welcoming them on board soon."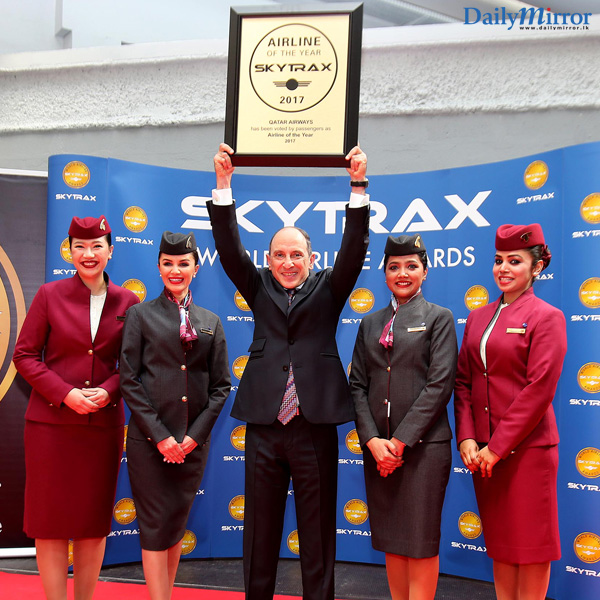 Commenting in regards to the current flight ban affecting the state of Qatar, H.E. Mr. Al Baker added: "At these difficult times of illegal bans on flights out of my country by big bullies, this is an award not to me, not to my airline, but to my country."
The global airline, which was last year voted as having the World's Best Business Class, Best Business Class Lounge and Best Airline Staff Service in the Middle East, continues to exceed expectations with its global expansion strategy and product development, including the recent launch of its new, innovative and award-winning Business Class experience, Qsuite. The first fully fitted aircraft is being showcased at Paris Air Show before going into service this weekend on the London-Doha route.
Qatar Airways' patented new seat design has itself already gained industry notoriety after receiving the Best Airline Innovation of the Year award at the 2017 ULTRAS (Ultimate Luxury Travel Related Awards) for its launch of Qsuite. The prestigious award was presented at a ceremony at The Savoy hotel in London, attended by Sarah, Duchess of York and HRH Princess Eugenie of York, along with industry experts and VIPs. The win was significant in that the award was given before the seat has even commenced service, such is the anticipated impact of the design on the premium travel industry.
Qsuite, patented by Qatar Airways, features the industry's first-ever double bed available in Business Class, with privacy panels that stow away, allowing passengers in adjoining seats to create their own private room. Adjustable panels and movable TV monitors on the centre four seats allows colleagues, friends or families travelling together to transform their space into a private suite, allowing them to work, dine and socialise together. These new features provide the ultimate customisable travel experience that enables passengers to create an environment that suits their own unique needs.
The prestigious awards received in Paris today mark yet another busy year for Qatar Airways as the airline looks ahead to no less than 24 new destinations to be launched, new aircraft deliveries, the roll-out of the revolutionary Qsuite across the fleet and continued celebrations of the 20th year anniversary. Qatar Airways previously won the title of the World's Best Airline in 2011, 2012 and 2015.
One of the world's fastest-growing airlines, Qatar Airways recently added Dublin, Republic of Ireland, to its global route network, soon to be followed by Nice, France; Skopje, Republic of Macedonia and Chang Mai, Thailand. The airline operates a modern fleet of 200 aircraft to a network of key business and leisure destinations across Europe, the Middle East, Africa, Asia Pacific, North America and South America.