---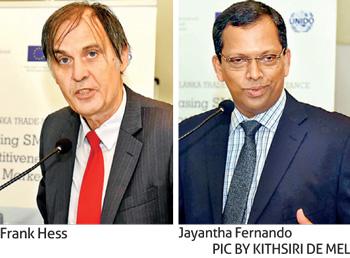 The proposed Data Protection Bill would present new opportunities for Sri Lanka in cross border e-commerce activities, fostering passage to innovate while enhancing consumer confidence, according to experts.

As the Intellectual property is at the foundation of many e-commerce activities, European Union Delegation to Sri Lanka and Maldives, Head of Cooperation, Frank Hess said that the proposed Data Protection Bill once legislated will enable Sri Lanka to utilise opportunities in existing and new free trade agreements (FTAs).

He made these remarks yesterday at the opening session of a National Public-Private Dialogue (NPPD) on the 'Legal Framework for the Proposed Data Protection Bill' in Colombo organised by the Ministry of Digital Infrastructure and Information in collaboration with the International Trade Centre (ITC).

Hess noted that there's already an e-commerce chapter in recently enacted Sri Lanka-Singapore FTA.

Along with the legal framework, he opined that the country should leverage on business education, legal awareness and strategic development of trade position in order to benefit from these FTAs in terms of e-commerce.

The Digital Infrastructure and Information Ministry recently published the framework for the Data Protection Bill.

According to the document, the draft bill is based on six data protection principles—lawfulness in processing, purpose limitation, data minimisation, accuracy, storage limitation, integrity and confidentiality.

The Data Protection Legislation Committee, Chair/Convenor, Jayantha Fernando said the current version of the draft bill is not the final version, which is to be gazetted as some changes to the current draft are likely to take place after the private sector stakeholders submit their observations.

He noted that the Ceylon Chamber of Commerce (CCC) and several large corporations have asked for time till July 1 to submit observations on the draft bill.

However, he said that an Independent review panel will closely monitor the changes being made to the initial draft bill.
After receiving the Cabinet approval, it will be tabled in Parliament for approval.

Digital Infrastructure and Information Non Cabinet Minister Ajith Perera earlier said that legislation of the bill would happen within two months.

(NF)