---
Nations Trust Bank (NTB) announced that Priyantha Talwatte has taken over the reins as Chief Executive Officer, succeeding former Director/Chief Executive Officer Renuka Fernando.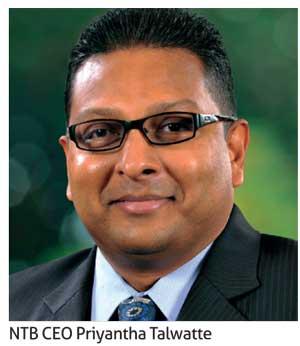 Talwatte, who has been an integral part of the corporate management team of the bank for the past 17 years, was appointed as Deputy Chief Executive Officer and named Chief Executive Officer designate in January 2019.
With over 27 years of professional experience in diverse sectors, Talwatte energised the consumer banking business at NTB as a transformative business leader. In a time of industry-wide change, he was a leading proponent of digital banking and the digitisation of operations for optimal customer convenience, establishing and strengthening the bank's direct banking and digital channels.

Commenting on the appointment of CEO, NTB Board Chairman Gihan Cooray stated, "The board has every confidence that Talwatte will lead the bank towards achieving its goals. Talwatte is the most suitable man for the job and I wish him well in his new role."
Talwatte proved his mettle by contracting and launching the American Express franchise in Sri Lanka, implementing best-in-class work process and practices internally and externally to become the leading credit card issuer and acquirer in the local market.

He was also instrumental in cementing NTB's position in consumer banking, demonstrating expertise in setting up new business units, expanding and scaling existing business units of the bank and in the start-up of new businesses, scaling profitably and ensuring sustainable growth.

Speaking on his appointment as CEO, Talwatte said, "NTB has always been known for a bold, forward-thinking approach in the work we do. I have to thank my predecessor, Renuka Fernando, whose eight years at the helm, propelled the bank forward, positioning it on a strong platform to pursue future growth. I am determined to continue my work in transforming NTB to its best self to stay ahead in a fast-changing world. The confidence placed in me by the board and the Nations Trust team and the continued support of our customers, our merchant partners and all other stakeholders in the bank's journey, gives me the assurance that we will be able to reach our common goal."

The leadership displayed in developing a sales, service and business development culture driven by data analytics for risk management and decision-making by Talwatte reshaped the bank's operations.

He transformed NTB's branch network into a vehicle for all products and propositions of the bank and is also credited with the development of a unique portfolio-based customer management process, serving a majority of high-value customers in the Sri Lankan market through one-on-one relationship management.

Talwatte is an alumnus of the Advanced Management Programme of the Harvard Business School, Boston, USA, (AMP-196) and is a qualified Marketer of the Chartered Institute of Marketing (UK).