---
By Shabiya Ali Ahlam
As Sri Lanka gears up to reap the benefits of GSP Plus, Prime Minister Ranil Wickremesinghe yesterday said the business community must maximize all efforts to fully capitalize on the opportunity that could be the golden ticket in reviving the nation's dampening exports.
"It is not about just entering into a market but it is a significant landmark that marks the beginning of our economy becoming an export-oriented economy," said the upbeat premier while addressing Women Leadership Summit 2017 in Colombo, yesterday.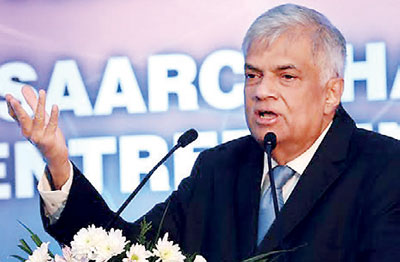 Pointing out that businesses in South Asia are either export oriented or domestic oriented, he stressed that Sri Lanka should now strive to becoming a fully export-focused nation.
Since no success can be achieved by increasing the focus on the domestic market alone, Wickremesinghe stressed continuing to do so would not help resolve the country's perennial balance of payment (BOP) issue.
"The problem we face is a serious BOP position and debt servicing. This can only be resolved by increasing our export earnings. We have to aim for all of us becoming exporters.
Domestic market focus alone is not enough, not anymore," he remarked.
With GSP Plus allowing access to about 6000 products, it was said that the economy must look at broadening the product range. Currently Sri Lanka's main focus in this regard is on apparels and fisheries.
"We ask the existing exporters to utilize this (GSP Plus). We will give the concessions to increase export volumes and export earnings," assured Wickremesinghe.
He also asked the domestic manufacturers to explore the option of becoming exporters, an effort that would receive government support.
"We will help them because they gave the capacity. There are only a few more steps they have to take. Our job is to encourage them."
Meanwhile, Wickremesinghe stressed that the proposed trade agreements with India, China and several other nations would not come into effect overnight and assured that priority would always be given to protect the domestic industries.
"We are spreading it out. There is enough time for our domestic industries to increase competitiveness. We will provide tax incentives along with other facilities," stated Wickremesinghe.
He also pledged to remove the administrative barriers that have been voiced by the export community as a primary hurdle in trade. With focus on improving ease of doing business and making banks more competitive, Wickremesinghe assured measures are being taken to ensure Sri Lanka achieves higher growth rates in the coming years.