---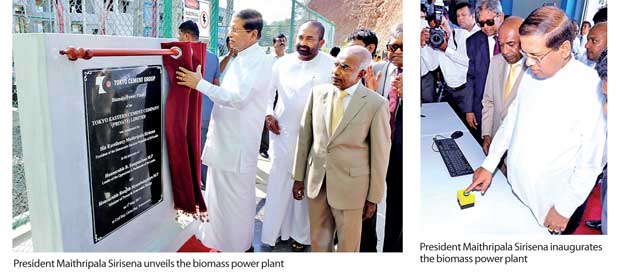 President Maithripala Sirisena ceremoniously inaugurated Tokyo Cement's second biomass power plant in Trincomalee recently, as part of a series of events held in commemoration of late Deshamanya A.Y.S. Gnanam, Founder Chairman of the company.
The plant opening was among a series of events held in commemoration of the birth anniversary of renowned late industrialist, Deshamanya A.Y.S. Gnanam, which included the foundation laying ceremony for a housing project for 25 families displaced during the war, distribution of deeds to residents of the Tokyo Cement Tsunami Housing Scheme in Nilaveli, foundation laying for a technical building and the commissioning of the biomass power plant inside the Tokyo Cement factory premises in Cod Bay, China Bay.
Leader of the Opposition R. Sampanthan and Power and Renewable Energy Minister Ranjith Siyambalapitiya were among the other distinguished guests that were present at the inauguration ceremony. The events were held under the patronage of Tokyo Cement Group Chairman Dr. Harsha Cabral PC, Managing Director S.R. Gnanam and the management and staff of the cement giant.
Late Deshamanya A.Y.S. Gnanam was a pioneering entrepreneur who ventured into many of Sri Lanka's firsts, which included the generation of renewable biomass energy. President Sirisena's visit to the Tokyo Cement Factory to inaugurate the company's second biomass power plant with a capacity of 8 MW to power the company's latest manufacturing facility was a salute to his legacy that will continue to live on for generations to come.
The Tokyo Eastern biomass plant commissioned by President Sirisena began construction in 2015 with an investment of over Rs.2.5 billion. The plant will contribute 70 Gwh per year to the national grid generated using industrial and agricultural waste sourced through community trade. In total, the plant will produce 160 thousand MW hours of clean renewable energy per year, which equals to the annual electricity consumption of 100,000 Sri Lankan rural households.
Tokyo Cement Managing Director S.R. Gnanam stated, "This contributes towards achieving the national renewable energy target set by His Excellency - that is to generate 10 percent of our country's energy requirement through all forms of non-conventional renewable energy resources by 2017. With this landmark opening, the company becomes the single largest contributor of renewable energy in the nation, generating 23 MW with the ability to proudly supply 2.5 MW surplus capacity to the national grid, thus making a significant impact in the country's energy footprint as a single player."
Being the largest manufacturer of cement and concrete in Sri Lanka, Tokyo Cement set an example for other industrial corporates as well by commissioning the first-of-its-kind agricultural waste power plant in Trincomalee in 2008. With the objective of becoming energy independent without burdening the national grid, the company established Sri Lanka's first successful large-scale Dendro power plant in 2014 in Mahiyangana, with a capacity of 5 MW and started basing its entire production process on green energy.
Dr. Cabral expressing his views on the commemoration ceremony said, "Following in the footsteps of the legacy created by the late Deshamanya A.Y.S. Gnanam, who earned his reputation as a Sri Lankan who cared deeply for his people and the country, the company was among the first to lead the rebuilding efforts after the 2004 tsunami disaster, by donating company-owned land in Nilaveli to provide housing for affected families."
During the morning's proceedings, Dr. Cabral laid the foundation stone for a new housing scheme that will be dedicated to 25 internally displaced families who have returned from India. The new housing project, situated adjoining the tsunami houses, is valued at a cost of over Rs.50 million, includes 10 perches of land for each family in Adampodai, Nilaveli.
These beneficiaries, chosen among hundreds by an evaluation committee comprising of local government authorities and Tokyo Cement officials, were living in refugee camps under dire circumstances for decades and now returning to Sri Lanka as part of the reconciliation process and for the first time will receive a roof above their heads, built upon a plot of land they could call
their own.