---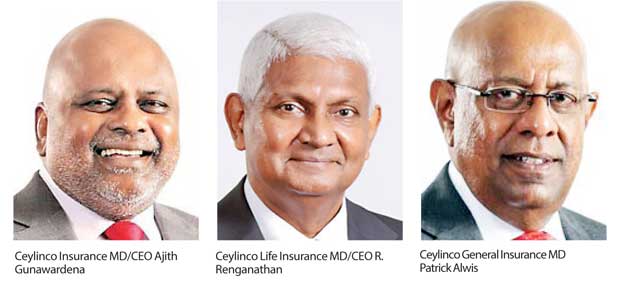 The growth in premium incomes, specially from non-life business and stronger investment incomes, helped Ceylinco Insurance PLC to double its 2017 profits as the country's largest life insurer filed its interim results with the Colombo Stock Exchange last week.

The life insurance giant, with a life fund in excess of Rs.84 billion by end-December 2017, however saw a muted growth in its gross written premiums (GWP) in both its life and non-life businesses, in comparison to the industry growth rates.

During the year, Ceylinco's life GWPs grew by 4.9 percent to Rs.15.77 billion while its general insurance business GWP grew by 11.2 percent to Rs.17.97 billion.
This is much slower than the industry growth rates of 12 percent for life and 16 percent for general insurance for 2017, which are also slower than in a typical year.

Sri Lanka's life insurance industry slowed down due to lower disposable incomes resulted from the higher taxes, interest rates and inflation and the general insurance industry growth was marred by the slowdown in new vehicle insurance policies in response to weak vehicle leasing activity.

For the quarter ended December 31, 2017 (4Q17), the Ceylinco group reported Rs.4.9 billion in net profit in comparison to Rs.2.4 billion reported during the corresponding period in 2016.

The consolidated GWP rose by 12 percent year-on-year to Rs.9.28 billion while the investment and other income rose by a robust 20 percent YoY to Rs.3.5 billion.

The group investments under the 'loans and receivables' category rose by Rs.7.0 billion to Rs.22.2 billion and the investments under the 'available-for-sale' category rose by Rs.3.0 billion to Rs.13.1 billion.

Apart from those, the group has Rs.63.5 billion under 'held-to-maturity' investments.

The group paid net claims and benefits of Rs.3.5 billion, little changed from a year earlier.

Meanwhile, for the year ended December 31, 2017, Ceylinco reported total earnings of Rs.8.1 billion, up 74 percent from 2016.

The total GWPs rose by 9.0 percent YoY to Rs.34.7 billion for the year.

Investment and other incomes rose by a robust 23 percent YoY to Rs.12.8 billion.

The group paid net claims and benefits of Rs.14.1 billion, up 6.0 percent YoY.

Sri Lanka's overcrowded insurance market operates with 27 insurance companies with two composite insurers, 12 life insurers and 13 non-life companies.

Since the insurance industry players were forced to segregate their life businesses from non-life businesses in 2015, the industry has seen some consolidation, particularly in the non-life sector, with mergers and acquisitions taking place during the last couple of years.