---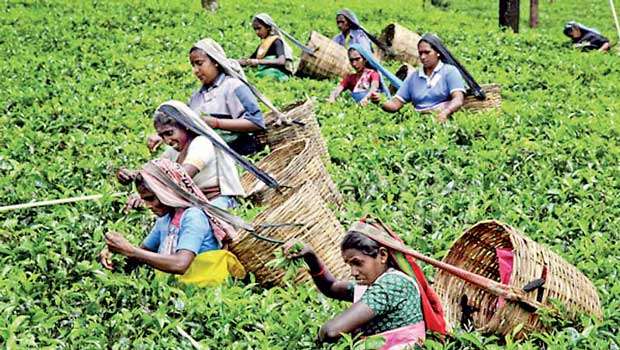 Agree on Rs.750 daily wage—basic wage of Rs.700 and PSS of Rs.50
Productivity and attendance incentives excluded in agreement

An agreement was reached last Friday between the Employers' Federation of Ceylon (EFC) and the estate sector trade unions to revise the collective agreement pertaining to plantation workers' wage.

Secretary General of The Planters' Association, Lalith Obeyesekere said as per the revised agreement, a daily basic wage of Rs.700 plus a Price Share Supplement (PSS) of Rs.50, totalling Rs.750 is the only remuneration a worker would receive based on the plucking norm. Additionally, a worker would be entitled to Rs.40 for every extra kilogram plucked above the norm, where the existing rate was Rs.28.75.

Obeysekere stated that no attendance or productivity incentives have been included within the scope of the revised agreement, effectively capping estate workers' earnings to Rs.750 a day plus over-kilograms.

Under the previous agreement, workers were provided a basic salary of Rs.500, in addition to an Attendance Incentive (AI) of Rs.60, a Productivity Incentive (PI) of Rs.140 and a PSS of Rs.30 amounting to a total daily wage of Rs.730.

Trade unions had initially demanded a daily basic wage of Rs.1, 000 with no demands on productivity and attendance incentives.

In response, Regional Plantation Companies (RPCs) advanced multiple proposals aimed at providing an option for increased earnings—potentially up to and above Rs.1, 000 through the addition of productivity linked incentives.

Trade Unions declared strike action in December in response to the industry's offer of 20 percent increase on the basic wage up to Rs.600, a 33 percent increase in the AI up to Rs.80, and a 20 percent increase in ETF/EPF up to Rs.90 in addition to the PI and PSS, leading to a maximum total daily wage of Rs.940, amounting to an average increase of Rs.3, 375 per month per worker.
Such measures were aimed at raising productivity—an area which Sri Lanka lags behind global competitors.

Plucking average in Sri Lanka's largest competitor nations Kenya, stands at 60 kgs, South India at 50 kgs and Assam at 36 kgs, where the norms in those nations have been set at 40 kgs, 34 kgs and 24 kgs respectively, thereby yielding much higher productivity levels.

The legal national minimum wage remains at Rs. 10,000 per month or Rs.400 per day for private sector workers.

In 2016, RPC workers remained among the highest paid when compared with the tea smallholder sector and garment industry , which both provided a daily wage of Rs.590, while average daily salaries in the tea export trade and manufacturing industry amounted to Rs. 570 and Rs. 554 respectively.