---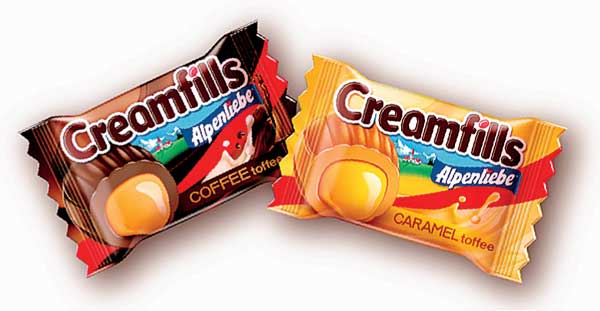 Confectionery giant Perfetti Van Melle (PVM) Sri Lanka recently introduced Alpenliebe Creamfills, the latest addition to its extensive local confectionery portfolio.

The product was launched at an event held at Hotel Sapphire, Wellawatte with the participation of PVM's business partners including distributors, sales personnel, company representatives and several well-wishers. Alpenliebe Creamfills is produced in itsstate-of-the-art factory in Seeduwa along with other well-established brands such as Center Fresh, Center Fruit, Center Shock, Alpenliebe, Mentos Maxxa,Mentos Sugarfree Gum and many more.
Alpenliebe Creamfills is made using ingredients of highest quality, comes in two of Sri Lanka's most popular flavours, Caramel and Coffee to give consumers an enhanced choice.A rich creamy centre inside a hard exterior is the standout feature of the toffee. This is the first of its kind liquid filled toffee to be launched in the Sri Lankan market and is sold at Rs. 2.Creamfills isalso packed in a pillow pack which ensures the quality remains the same from production till consumption.

"Alpenliebe has been a beloved household candy brand for many years and has dominated the platform of 'irresistibility' - a perfect fit for the unique product experience. Alpenliebe has managed to successfully capture the hearts of consumers of all ages across various sections of society.Perfetti Van Melle Sri Lanka has been introducing new and innovative products to Sri Lanka ever since it was established in 2007.Alpenliebe Creamfills is yet another innovative product extension in the same segment and underlines our commitment to bring world class products to Sri Lankan consumers" said the Country Manager of Perfetti Van Melle Sri Lanka, Sumitava Basu.
"Perfetti Van Melle's wide distribution network has the product readily accessible,making it available to consumers throughout the island, so that they can taste and indulge in this new cream-filled offering. We are confident that this launch will help bring Alpenliebe even closer to our consumers' hearts" said the Head of Sales, Perfetti Van Melle Sri Lanka, Seysiri Hewage.

PVM group is a privately owned global company that manufactures and distributes sugar confectionery and chewing gum products in over 150 countries. PVM Group, through its 100% owned subsidiary - Perfetti Van Melle Lanka (Pvt.) Ltd. set up a manufacturing base in Seeduwa, Sri Lanka since 2007, to manufacture sugar confectionery products primarily for the local market. In Sri Lanka PVM markets products under the brand names of Center Fruit, Center Fresh, Center Shock, Alpenliebe, Mentos, Chupa Chups, Happydent, Chlormint and Big Babol. In the last 9 years PVM Sri Lanka has grown to become one of the foremost in the confectionery industry in Sri Lanka and continues to delight over a million consumers everyday with their products.