---
Pelwatte Dairy Industries Ltd, a leading manufacturer of locally produced dairy products is introducing a range of specially packed bulk unsalted butter specifically for the hotel and catering industries. Targeting the upcoming festive season, the bulk packs will come in three sizes and will be available directly on-order from Pelwatte Dairy.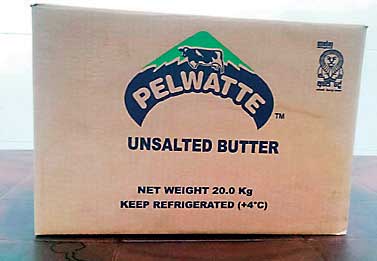 The pack sizes will be 5kg, 10kg and 20kg and priced at 7,000 rupees, 14,000 rupees and 28,000 rupees respectively. Pelwatte Dairy has been providing bulk unsalted butter to caterers and hotels for many years and is extending the service to the ever-growing food industry in the country.

"As the April holiday and festive season approaches, the demand for confectionary skyrockets across the island as hotels, caterers and bakeries are churning out cakes and sweetmeats at a rate. These establishments therefore need to stock up on the key ingredients. Pelwatte Dairy has been supplying unsalted butter in bulk to many such establishments for several years and are now looking at expanding the service to others in the industry", said Akmal Wickramanayake, Director Marketing at Pelwatte Dairy.

Most recipes call for unsalted butter as it allows the caterer to determine the salt input and calibrate with the rest of the ingredients. One more reason for baking and cooking with unsalted butter is that salt is a preservative. It preserves butter, meaning that salted butter could be older or less fresh than the sweet, unsalted variety. Pelwatte Dairy who has been supplying unsalted butter to the likes of pastry shops like Fab, Little Lion and Klassy for many years are also offering special discounted prices for bulk orders depending on the quantity.

For more information and to place orders, please contact Pelwatte Dairy on 0112-452094 or via email on pldairy@sltnet.lk