---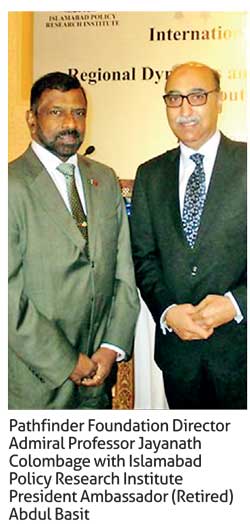 The Pathfinder Foundation attended the conference on 'Regional Dynamics and Strategic Concerns in South Asia', which was held in Islamabad, Pakistan recently, organised by the Islamabad Policy Research Institute (IPRI) in partnership with the Hans Seidel Foundation of Germany.

Scholars and subject matter experts representing governments and research institutes from Pakistan, China, Russia, Germany, Afghanistan, Sri Lanka, the USA, Nepal and France presented their research findings during the two-day conference.

The main themes of the conference were regional dynamics of South Asia, strategic concerns in South Asia, strategic situation in Afghanistan and its regional implications and addressing security concerns in South Asia; a way forward.

"The South Asian region is the economically and politically least integrated region in the world. This makes South Asia vulnerable and provides ample opportunities for intervention by outside powers even in domestic affairs of South Asian countries. South Asia needs to address decade old conflicting issues and find solutions and move ahead in developing the countries economically, in order to benefit people. South Asians should develop common perceptions, common interests and common concerns and rise as a region," stated Admiral Dr. Jayanath Colombage attending the conference.

IPRI President Ambassador (Retired) Abdul Basit conducted the welcome address opening the conference and Pakistan Joint Chiefs of Staff Committee Chairman General Zubair Mahmood Hayat delivered the keynote address.

Admiral Colombage represented the Pathfinder Foundation and presented his paper titled 'Assessment of Socio-political Trends in South Asia', at this international conference. This paper highlighted the diverse nature of South Asian countries with regards to population, size, ethnicity, religion, development and economic standing at presently.

This paper also identifies the flash points among the states, which could lead to conflict. Lack of economic and people-to-people connectivity and integration of regional economies were also stressed upon.

Admiral spoke about terrorism and violent extremism, which had engulfed some states in the region including Sri Lanka and the need to collaboration in eradicating the menace of terrorism with a view to bring peace and stability to the region. The strategic importance of the maritime domain of the South Asian region within the greater Indian Ocean region was also highlighted.

Admiral described this region as an area of strategic competition for major powers, strategic alliances by some major powers against other major powers and strategic dilemma for smaller, less powerful states as these are at times forced to choose between major powers. He indicated the predicament of smaller states as they are unable to make decisions based on economics but first have to give way to strategic considerations and aspirations of major powers.

He also emphasized that major initiatives such as the Belt and Road Initiative (BRI), Asia Africa Growth Corridor (AAGC), Security and Growth for all in the Region (SAGAR), Free and Open Indo-Pacific Oceans should be aimed at developing the region and not in competition against each other.

Admiral suggested that Sri Lanka by being in the most strategic location of the South Asian region and with its eqi-distance and balanced foreign policy can play a key role in regional integration in a new security architecture for the common good of the entire South Asia.