---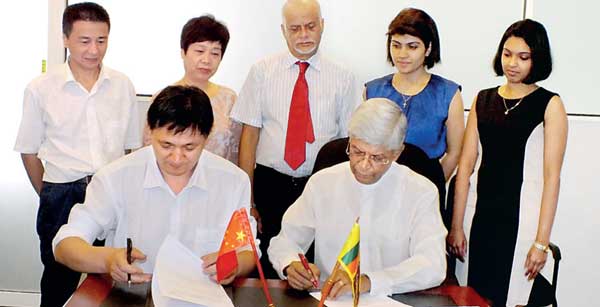 The MoU being signed by Fujian Province Commerce Department Asian Affairs Division Dr. Sun Jun and Pathfinder Foundation Chairman Bernard Goonetilleke in the presence of Associate Counsellate Wu Fel, Fujian Province Derector Lechao Jiong, Pathfinder Foundation Executive Director Luxman Siriwardena, Project Manager Ameera Arooz and Project Executive Sarah Hattiaratchi
The Pathfinder Foundation signed a memorandum of understanding (MoU) with China's Fujian Province Commerce Department recently.

The MoU seeks to strengthen cooperation in the fields of trade, investment and economic relations between the province and Sri Lanka. The MoU was signed by Fujian Province Commerce Department Asian Affairs Division Dr. Sun Jun and Pathfinder Foundation Chairman Bernard Goonetilleke.
The Fujian Province has been in the forefront of the Chinese economy, which attracted US $ 7.7 billion in foreign investment and exported US $ 113 billion worth of goods in 2015. Consequently the province has piled up high gross domestic product (GDP) capita growth of US $ 9,865 per annum for its 38.3 million population.
The Fujian Province, which has considerable economic interests in Southeast Asia, is now focusing on developing economic relations with countries in South Asia, an interesting development for Sri Lanka. The Fujian Province is also enthusiastically focusing on the Belt and Road Initiative of President Xi Jinping, to which Sri Lanka has given its fullest support from the very inception of the massive project.
Fujian, which has twice the landmass of Sri Lanka, is a highly industrialized province in China, attracting numerous multinationals such as Boeing, Dell, GE, PepsiCo, Nestle, etc. Many ethnic Chinese around the world, especially Southeast Asia, trace their ancestry to Fujian. Descendants of Fujian emigrants make up the predominant majority ethnic Chinese populations of the Philippines, Taiwan, Singapore, Malaysia and Indonesia.

During the discussion with the four-member delegation, the Pathfinder Foundation expressed its willingness to help promote trade and investment from Fujian to Sri Lanka and establish a Fujian Province Trade and Investment Promotion Centre in collaboration with the Pathfinder Foundation. In this regard, both parties agreed to conduct further studies and continue discussions to achieve the objectives outlined in the MoU, the first of such an understanding to be reached by the Pathfinder Foundation with a state institution in China.