---

As much as 40 percent of the world's oceans are adversely affected by human activities, including pollution, depleted fisheries and loss of coastal habitats, stated Pathfinder Foundation Center for Indo-Lanka relations Director Admiral Dr. Jayanath Colombage attending the second International Blue Economy Dialogue in Dhaka, Bangladesh.

Delivering a paper titled 'Challenges and Opportunities for Ocean Resources and Blue Economy', the speaker indicated that oceans play an important role in the sustenance of planet earth and humankind - as a source of food, transportation, exploration and acquisition of wealth. Oceans also balance the ecosystem on land to a great extent. Over the years people have come to understand the potential and dynamic behavior of the oceans and realise the need to maintain the balance of oceans.

The 'Second International Blue Economy Dialogue' is organised by Maritime Affairs Unit, Ministry of Foreign Affairs in Bangladesh. The dialogue was inaugurated by Chief Guest Planning Minister A.H.M. Mustafa Kamal FCA, while Foreign Affairs Ministry State Minster Shahriar Alam, International Sea-bed Authority (ISA) Secretary General Michael Lodge and Prime Minister's Office Principal Secretary Dr. Kamal Abdul Naser Chow-dhury graced the occasion as special guests. Twenty-five working sessions took place during the two-day dialogue where 25 experts on different fields have presented their papers in different subjects related to Blue Economy.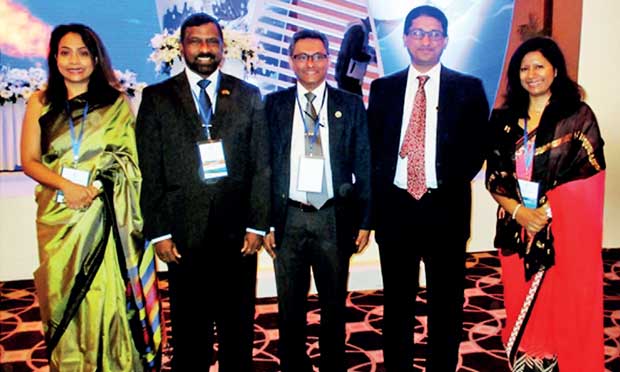 About 250 representative from home and abroad, including ministries of defence, home affairs, foreign affairs, environment and forest, are taking part in the conference. Dr. Admiral Colombage represented the Pathfinder Foundation and he said that the extreme weather conditions that we experience in the world today, be it cyclones, hurricanes, excessive rains and flash floods or draughts are a result of ocean warming.

Admiral Colombage further stressed that the future of mankind lies in the ocean. It is estimated that 95 percent of the underwater world remains unexplored which is a clear indication to the hidden, unknown wealth and potential of the oceans. The ocean is also the largest habitat for marine life with more than three billion people relying on it as the primary source of protein. It is believed that the Indian Ocean, which has been nourished for thousands of years by many rivers and tributaries contains large quantities of commercially exploitable hydrocarbons; gas and oil, and seabed minerals in addition to a rich diversity of living resources such as fish and exotic marine life.

Marine Pollution
In his presentation, Admiral pointed out that previously, it was assumed that the ocean being vast and deep could thus absorb any amount of waste released into it. Humans, he said, have been polluting the oceans for centuries which has significantly, accelerated, primarily due to industrialisation and lack of awareness of and disrespect for marine health. Oil spills, dumping of toxic waste, and synthetic material have also contributed immensely to the deteriorating health of oceans.

Polluting oceans basically begins on land, the speaker highlighted. As per a report produced by the national oceanic and atmospheric administrative service of United States Department of Commerce, 80 percent of pollution to marine environment comes from land through pollutants from agriculture (fertiliser and pesticide), urbanisation (Disposal sewage and solid waste) industries (effluents and solid waste discharge) dirt, aquaculture projects, oil from motor vehicles and so on. Thousands of tons of plastic, one of the most dangerous pollutants, is dumped into the ocean on a daily basis, he said and this is harmful to the environment as it is not bio-degradable and is often consumed as food by marine animals. Similarly, toxic waste, chemical waste and radioactive waste are also heavy contributors to ocean pollution. All these pollutants not only destroy large numbers of sea creatures and birds but also impact the entire marine eco system by damaging the reproduction cycle of the marine animal and behavioral changes, ultimately causing their destruction. This has led to a gradual loss in marine life and an increase in the number of endangered species, he said.

Admiral highlighted that disposal of untreated or under-treated sewage is another major pollutant of the ocean. Sewage leads to the decomposition of organic matter which in turn results in a change in biodiversity harmfully impacting the marine ecosystem. Land based agriculture is another contributor as chemicals and fertiliser are released into waterways leading to the ocean and could result in the rapid increase of algae, which deplete the oxygen content in water and impact marine life and its survival. Marine animals, especially smaller ones, absorb these chemicals as part of their food which then enter the larger marine animals through the food chain. When people consume fish, the chemicals in them could lead to terminal diseases such as cancer, the speaker pointed out.

He further stated that garbage such as plastic and aluminum dumped into the sea can end up in shores of coastal areas and would negatively impact the coastal communities and their livelihood as well as coastal tourism. Air pollution is another factor that negatively impact oceans. Dirt and other particles which settle on the ocean surface add to pollution. The speaker reiterated that we cannot assume that garbage and other forms of pollutants that are related into this vast, deep ocean would dilute and disappear. Conversely, these pollutants come back to humans through the food chain, which is sometimes even life threatening. However, reversing harmful effects of human induced pollution of the oceans will be costly. The UN Sustainable Development Goal 14 indicates that as much as 40 percent of world oceans are heavily affected by human activities, including pollution, depleted fisheries, and loss of coastal habitats. It also includes ocean based pollution as a result of vessel collisions (oil and hazardous matter), explorations (oil and suspended matter) and dumping (oil and garbage), he stated.

New Industries and Polluting the Ocean.
Admiral Colombage concluded that although the population of the world is on the increase, the land area available for humans is rapidly decreasing due to various reasons. Further, as economic conditions of the masses are also improving, it will require the extraction of more resources from the ocean to increase production and trade. Therefore, industrial activities in the ocean will increase with new industries such as renewable energy, sea bed mining, blue bio-technology, blue technology and remediation and restoration of the ocean. All these activities will add more pollutants to the oceans, unless strict regulatory measures are implemented to counter these effects, he admonished.