---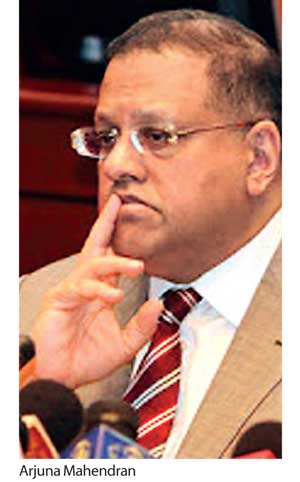 AFP - A Sri Lankan parliamentary panel yesterday called for the criminal prosecution of former Central Bank chief Arjuna Mahendran who was removed three months ago over long-running allegations of insider trading.

A Singapore national of Sri Lankan origin, Mahendran was accused last year of leaking inside information to his son-in-law's firm, allegedly allowing it to make millions of dollars in profits from central bank bond auctions.

The scandal came on the heels of a mounting debt crisis in Sri Lanka -- the country secured a US$1.5 billion bailout from the International Monetary Fund in July.
A bipartisan oversight committee on Friday demanded legal action against Mahendran and his son-in-law. "They should be prosecuted in a court and action taken to recover the losses incurred by the state due to their actions," committee chairman Sunil Handunnetti told parliament.

President Maithripala Sirisena sacked Mahendran in July, bowing to public pressure, and asked the legislature to investigate the allegations against him.

An ad-hoc ruling party committee had cleared Mahendran of direct involvement last year, but civil society activists pressed for a thorough investigation resulting in the parliamentary panel launching an extensive probe.
Mahendran has consistently maintained his innocence.