---
In response to our story titled 'PM rains on John's parade' appeared yesterday, a 'right of reply' from Tourism Development, Wildlife and Christian Religions Affairs Minister John Amaratunga, sent through his Media Secretary, said the appointments of heads to the tourism bodies were postponed because Prime Minister Ranil Wickremesinghe requested more time to review the nominees.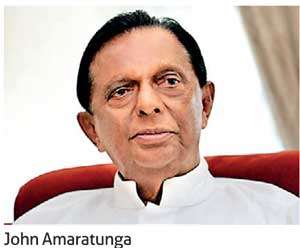 Following is the right of reply sent to us in full:
A simple event was organised last morning at the ministry premises to present the letters of appointment to the nominated chairmen of the four institutions coming under the purview of the Tourism Development Ministry.

The nominations for the posts were duly sent to both the Prime Minister's Office as well as the President's Office in keeping with the protocol and necessary clearance. The approval from the Presidential Secretariat was received last week, with a copy sent to the Prime Minister's Secretary for
necessary action.

However, the prime minister last morning requested for more time to review the nominees.
We need to emphasize that the nominees for the posts were approved by a committee that also included representatives from the Prime Minister's Office and special attention was paid to the fact that only the most qualified and suitable persons were selected for the posts. Further, the ministry is fully committed to rollout the global campaign in a professional and effective manner as early as possible.