---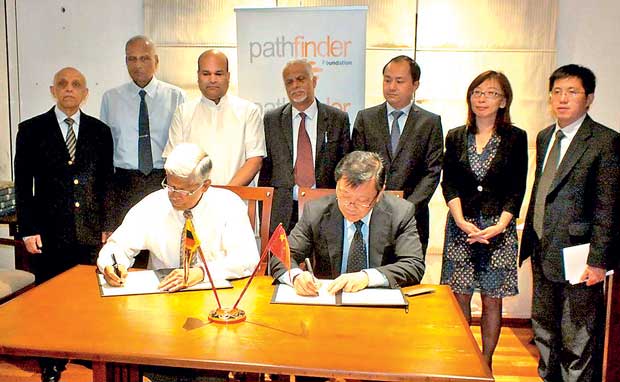 CICIR President Prof. Ji Zhiye and PF Chairman Bernard Goonetilleke signing the MoU to enhance mutual understanding and cooperation
A five-member delegation from one of China's oldest and largest think-tanks – the China Institutes of Contemporary International Relations (CICIR) – undertaking a three-day visit to Sri Lanka, held discussions with Pathfinder Foundation (PF) founder Milinda Moragoda and the senior officials of the foundation on April 27.
Following the conclusion of discussions, the two institutions signed a Memorandum of Understanding (MoU) to enhance mutual understanding and cooperation through collaborative institutional relations.
The meeting was co-chaired by Moragoda and CICIR President Prof. Ji Zhiye. Among the participants from the Chinese side were Institute of South and Southeast Asian and Oceania Studies Deputy Director Zhang Xuegang, Institute of South and Southeast Asian and Oceania Studies Deputy Director Li Li, Associate Research Fellow Song Qingrun and CICIR Assistant Research Fellow NieHuihui.
The PF representation consisted of Chairman Bernard Goonetilleke, Director M.D.D. Pieris, Executive Director Luxman Siriwardena and Project Manager Ameera Arooz.
The two delegations discussed several issues of mutual interest. President Ji highlighted China's interest in developing infrastructure that would connect western China with Europe and eastern China with the countries in the Indian Ocean by developing the ancient Maritime Silk Road.
Moragoda spoke of the need for Sri Lanka to attract Chinese investment to the island, taking into consideration the fact that during the period of internal conflict, the government was unable to focus on infrastructure development. Both sides agreed to devote time to study the issue and come up with conclusions and recommendations.
The CICIR is a research institution devoted to studying international issues. The CICIR, established in 1980, mainly focuses on international strategy, international politics and economy, global and regional security and the political, economic, diplomatic and social issues of major world powers. Presently, the CICIR consists of 11 institutes, two research divisions, eight research centres and several administrative departments. It has a staff of almost 400, among whom 150 are professors and associate professors.
The PF counts over 10 years of work experience by playing a catalytic role in changing attitudes towards internationalization, private ownership and the role of government through research, dialogue and action. In 2015, the foundation established a research arm, the China Sri Lanka Cooperation Studies Centre (CSLCSC), with a view to gaining a deeper understanding and cooperating with China. The centre works closely with several Chinese institutions such as the Shanghai Institutes for International Studies (SIIS). The Shanghai-based SIIS is taking steps to strengthen its relations with the PF by stationing one Chinese scholar at the CSLCCS.
Further, the SIIS is also taking action to establish a similar counterpart institution in China for promoting Sri Lanka-China relations and undertaking studies and carrying out research work in areas of interest to both countries.
The PF also has close working relationships with several other Chinese institutions. One such institution is the Chinese People's Association for Peace and Disarmament (CPAPD). Following signing of an MoU with the CPAPD several years ago, regular exchanges of professionals have taken place focusing on areas such as tourism, agriculture, fisheries, etc.
The PF has also established a working relationship with Hainan-based Boao Forum for Asia, through an MoU signed last year. One of the major events jointly sponsored by the PF with the Boao Forum for Asia was the Seminar on One Road One Belt held in Colombo in November 2014. It is the expectation of the PF that through regular interaction with well-established Chinese institutions, both countries stand to benefit in many spheres, primarily through promotion of better understanding
and cooperation.