---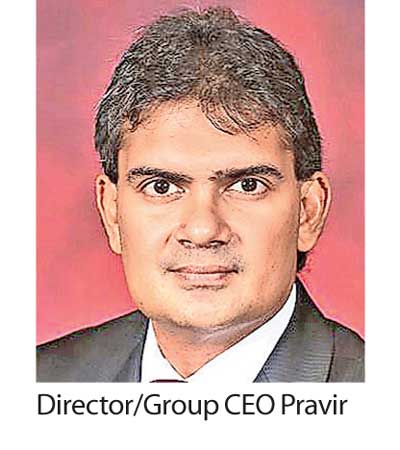 Overseas Realty (Ceylon) PLC (OSEA), the local unit of the Singapore based real-estate group, saw its September quarter (3Q16) net profits edging up 1.7 percent to Rs.722.4 million from the same period last year as revenue from apartment sales more than doubled, the interim results filed with the Colombo Stock Exchange showed.

The earnings per share with fair value gains on investment property was 81 cents compared to 82 cents a year ago.
For the nine months ended September 30, the company posted Rs.2.48 net profit a share or Rs.2.2 billion in total, virtually unchanged from a year ago as the nine months apartment sales fell sharply by 65 percent Year-on-Year (YoY) to Rs.283.7 million due to the inability to recognise revenue of Havelock City Phase 3 sales during this period, according the company.

"Phase 3 was launched in March 2016 and as at the quarter end around 28 percent of the Phase 3 units had been pre-sold. While construction of Havelock City Phase 3 is currently underway, pilling work for Phase 4 is scheduled to be completed by April 2017," the company said in a statement.
It appears that the piling works of the Phase 4 of the project is behind schedule because in an earlier statement issued by the company said such works were scheduled to be completed during 2016.
"While construction of Havelock City Phase 3 is currently underway, pilling works for Phase 4 is scheduled to complete during 2016," a previous statement noted.
The Phase 3 and Phase 4 of the Havelock City project are slated to be completed by end 2019 and 2020, respectively, and are expected to add 600 new apartment units.

Apart from the residential component, Havelock City has also begun work on the design works of its commercial complex. The commercial complex will consist of a world class 'A grade' office tower and a shopping mall built to international standards with a fusion of retail, dining and entertainment, according to the company.
In September, the company announced to raise close to Rs.7.3 billion via a rights issue in the proportion of two shares of every five existing ordinary shares at a price of Rs.20.50 a share, for the investment in the proposed Mixed Development Project of Havelock City (Private) Limited.
In June 2015, OSEA raised Rs.977 million in a rights issue and the proceeds were to be used to purchase floors L/36/WT and L/37/WT of the World Trade Centre building valued at Rs.762.4 million and the surplus funds were to be used for working capital / investment purposes.
Meanwhile, during the quarter, rental income fell 9.5 percent YoY to Rs. 445.2 million. The revenue from other property services too fell 13.6 percent YoY to Rs.40.7 million.

However, for the nine months, the company recorded a revenue of Rs1.4 billion from property leasing (rental income) at the World Trade Center (WTC) Colombo, 5 percent less than a year ago but expects to maintain good occupancy levels during 2016.

Revenue from other services was Rs.150 million which is an increase of 21 percent over the corresponding period of 2015.
As at September 30, 2016, Singapore-based Shing Kwan Investment Company Limited held 53.80 percent stake of the company.