---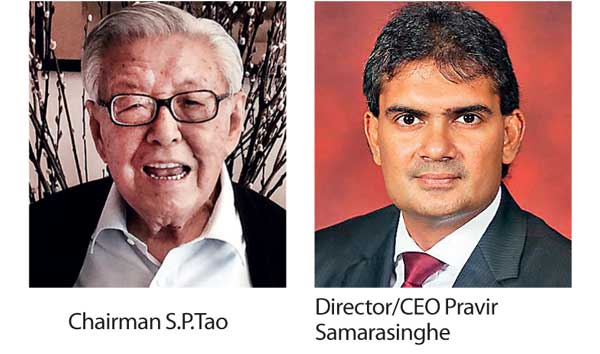 The local unit of the Singapore based real-estate group, Overseas Realty (Ceylon) PLC (OSEA) group posted a net profit of Rs.761.6 million or 84 cents a share for the quarter ended June 30, 2016 (2Q16), up 3.7 percent from a year ago.

But, the income from both rentals and apartment sales slipped from a year ago, the interim
results showed.

The rental income declined 4.8 percent year-on-year (yoy) to Rs. 473.6 million. The company owns 185 condominium units that are held to earn rentals, the financial statements said.
The apartment sales income dropped 4.9 percent yoy to Rs.126 million, "due to non-recognition of revenue of 'Havelock City Phase 3' during this period", the company said in a statement.
By the end of 2Q16, the company had pre-sold 25 percent of 'Havelock City Phase 3' but the revenue cannot be recognized in the books of accounts until the construction reached a completion level of at least 25 percent.

The Phase 3 and Phase 4 of the Havelock City project are slated to be completed by end 2019 and 2020, respectively, and will add 600 new a
partment units.
"While construction of Havelock City Phase 3 is currently underway, pilling works for Phase 4
is scheduled to complete during 2016," the
statement added.

"In addition to the developments in the residential component, Havelock City is currently working on the design works for its commercial complex. The Commercial complex will consist of a world class 'A grade' office tower and a shopping mall built to international standards with a fusion of retail, dining and entertainment," the company further stated.

The total revenue earned by the group was Rs.645.4 million, down 3.7 percent yoy.
In June last year, OSEA raised Rs.977 million in a rights issue and the proceeds were to be used to purchase floors L/36/WT and L/37/WT of the World Trade Centre building valued at Rs.762.4 million and the surplus funds were to be used for working capital / investment purposes.

During the six months ended June 30, 2016, the group raised Rs.512.7 million in loans and another Rs. 700 million worth of short term investments and invested Rs.731 million in a subsidiary.
Meanwhile, for the six months ended June 30, 2016, the OSEA group made a net profit of Rs.1.48 billion or Rs.1.66 a share, down from Rs1.70 a share a year ago.

As of June 30, 2016 Singapore based Shing Kwan Investment Company Limited held 53.80 percent stake in the company.