---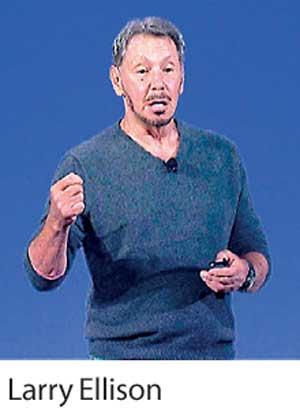 By Indika Sakalasooriya in San Francisco
Redwood City, California-based computer technology firm, Oracle Corp. this week unveiled the world's first autonomous operating system (OS), expanding its autonomous product portfolio beyond its flagship software, Oracle Autonomous Database introduced two years ago.

Oracle Executive Chairman and Chief Technology Officer, Larry Ellison unveiled the new Linux-based OS at the Oracle OpenWorld, the tech firm's annual user conference in San Francisco.

Ellison said with the introduction of autonomous OS, the vulnerability in the code below its autonomous database software has been completely eliminated.
"Autonomous system eliminates human labour, by eliminating human labour you eliminate pilot error. It's a very very big deal," Ellison said.

"If you eliminate human error, you eliminate data theft. It's the only way you can ever eliminate data theft," he added.

Citing the recent Capital One data breach, Ellison assured that such occurrences would not happen with Oracle, as its autonomous database and OS don't allow customers to make configurations thus eliminating human error.

"No human labour, no human error, no data loss. There is a big difference between us and AWS (Amazon Web Services)."

Ellison said, like the database, the new OS provides, scales and patches itself while running. "There is no outage, there is no down time, and there is no delay."
"It's live and it's pretty cool. All of our infrastructure runs on autonomous Linux," he added.

Meanwhile, Ellison said Oracle would offer a free version of its cloud infrastructure, giving developers and students access to the firm's autonomous data warehouse, computing and storage.Also, the firm will allow customers run the Oracle Autonomous Database in their own data centres next year and purchase software made by other companies in the Oracle Cloud Marketplace.

Ellison further said Oracle would have more regions around the world than AWS with the proposed launch of 20 additional cloud data centre hubs called 'regions' by end of 2020.