---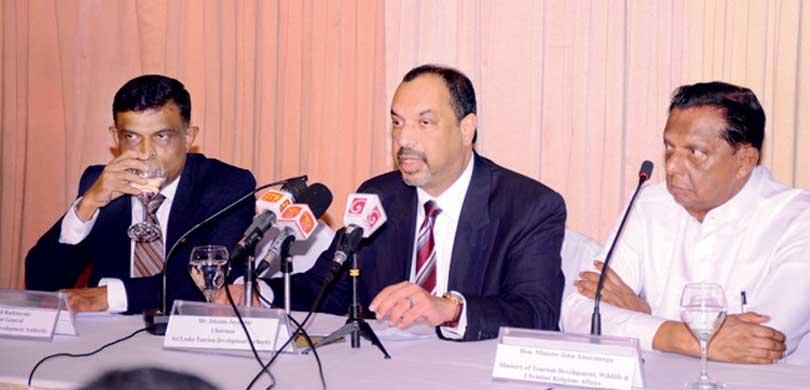 From left: SLTDA Director General Upali Ratnayake, SLTDA Chairman Johanne Jayaratne and Tourism, Wildlife and Christian Religious Affairs Minister John Amaratunga
Pic by Waruna Wanniarachchi
The Sri Lanka Tourism Development Authority (SLTDA) yesterday officially launched a five-step, one-day licence renewal service for the tourism industry service providers, an effort taken towards improving the standards of the industry and ensuring sooth operations.

As an initiative to expedite the annual renewal of licences process and to deliver enhanced satisfaction to the tourism industry service providers, the SLTDA said it is now fully geared to issue renewals for accommodation within one working day, provided all documents are in order.
To avail the one-day service, the service providers are required to fulfil five steps, which are: (1) submit the requested two forms with all the necessary documents between 8:30 a.m. and 10:00 a.m., (2) collect the receipt of acknowledgement, (3) make the payment of Tourism Development Levy (TDL) and renewal fees, (4) collect the payment receipts and handover a copy of the same to the counter and (5) collect the licence between 3:30 p.m. and 4:15 p.m.

The SLTDA said it embarked on the one-day initiative after having received numerous complaints from the service providers regarding the hassle in obtaining the relevant licences, Tourism, Wildlife and Christian Religious Affairs Minister John Amaratunga said.

Due to the delays and red tape in the system, it was brought to notice that a number of service providers continued to operate without the required licences, which in addition to causing loss of revenue to the government, has led to subpar service offering to tourists in some instances, as the operations of such providers go unsupervised.

"The SLTDA will ensure the renewal will be done on time here on.

We have to keep a breast with the modern-day developments and all other technical enhancements that are taking place. At last some system has been evolved for the expeditious issuance of licences," Amaratunga said.

Meanwhile, SLTDA Chairman Johanne Jayaratne said that by the end of the month, a complete automation of the one-day licence renewal would be rolled out, where the human involvement would be limited to site inspection of the property. (SAA)