---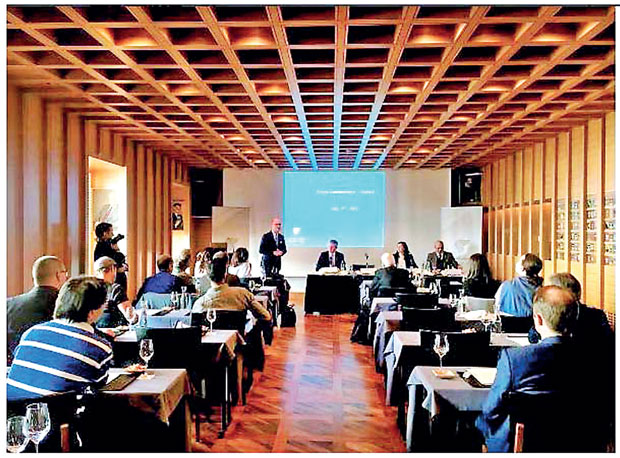 The Chief Executive Officer of Oman Air, the national carrier of the Sultanate of Oman, has undertaken a series of high profile visits to Delhi, Zurich and Kuala Lumpur.

CEO Paul Gregorowitsch makes regular visits to key locations to meet with the airline's key stakeholders from trade, media and government partners as well as Oman Air personnel, highlighting the importance of these regions to the airline and recognising their contribution to the growing success of the airline.

During his time in each region, Gregorowitsch used the opportunity to meet with journalists from the respective countries and respond directly to press enquiries as well as being able to thank the media for their ongoing support first hand.

Gregorowitsch said: "I have wholeheartedly enjoyed visiting Delhi, Zurich and Kuala Lumpur which comes as part of my annual routine. These routes are of special significance to Oman Air and continue to prove extremely popular with our guests both in Oman and further afield. In a bid to reiterate Oman Air's commitment towards its guests, Oman Air has added more offerings to its range. Notable among those is the increase of flights to Kuala Lumpur and the increased frequencies to certain key Indian destinations."

Oman Air launched its first international service in India to Trivandrum in November 1993 and has since launched routes to 10 more destinations across India. Five of these routes are now served by double daily services.

Within the last year, the Sultanate of Oman and the Republic of India have agreed to increase the number of flights between the two countries through an open sky air service agreement. This resulted in Oman Air increasing its frequencies on a number of routes, with 21 weekly flights to Delhi, Calicut and Hyderabad and 14 weekly flights to Lucknow. Most recently, the airline introduced a third daily flight from Mumbai to Muscat which increases the overall weekly frequency of flights to India from 154 to 161.

Since Oman Air launched its direct flight from Muscat to Kuala Lumpur, demand has grown among guests resulting in an increase in flight frequency and passenger numbers. The airline now operates 14 weekly flights – an increase from seven weekly flights on this time last year – to the Malaysian capital. Passenger numbers have also grown dramatically from almost 90,000 in 2015 to over 132,000 in 2016. Additionally, Oman Air entered a code-share partnership with Malaysia Airlines earlier this month, connecting their guests to an even wider range of destinations across Malaysia, China and Australia.

Oman Air's daily service from Muscat to Switzerland's capital Zurich has also seen an increase in flight frequency due to demand, particularly from business class passengers. Following a codeshare agreement with German airline Lufthansa earlier this year, guests can now enjoy daily flights from Muscat to Geneva via Frankfurt - morning departure with Lufthansa from Geneva to Frankfurt connects to the daily Oman Air Dreamliner service to Muscat and an early morning departure from Muscat allows for a morning arrival in Geneva.

Paul Gregorowitsch thanked the trade partners as well as the media in these markets: "I would like to thank our trade partners, travel agencies and sales agents who have all been incredibly supportive and contributed to the growing demand on these routes. We look forward to building on our strong relationship with these nations for many more years to come and to boosting the economic and tourism prospects between our countries."