---
By Nishel Fernando
Sri Lanka's largest weft knitted fabric manufacturer, Ocean Lanka (Pvt.) Ltd, plans to expand its operations to synthetic fabric manufacturing with the support of its minority shareholder, Brandix.

"We are planning to expand into synthetic fabrics by 2021. It could be either polyester or nylon. We are working together with Brandix on the expansion. Our marketing team is conducting a market research to determine the current size of the synthetic fabric market as well as the demand. Based on the outcome of the market research, we will plan our expansion," Ocean Lanka Managing Director Dr. Austin Au told Mirror Business.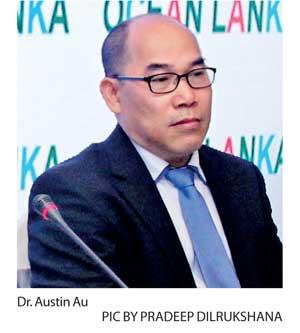 Ocean Lanka was founded in 1996 as a joint venture between Hong Kong-based Fountain Set Holdings and two of Sri Lanka's largest apparel manufacturers, Brandix and Hirdaramani.
Fountain Set Holdings holds a 60 percent stake in Ocean Lanka while Brandix and Hirdaramani hold 20 percent each.

Ocean Lanka is engaged in knitting, dyeing, printing and sales of dyed fabrics for apparel manufacturers serving leading global brands such as Victoria Secrets, Nike, Adidas, Marks and Spencer, GAP and Next.
Dr. Au emphasised that Ocean Lanka has been receiving an increased number of inquiries on synthetic fabrics from its clients, who are serving these global brands.
"In recent years, we have received many inquiries on synthetic fabrics. The market trend has shifted now. In particular, the United States or the European consumer prefers to have stretchable synthetic products now," he said.

Ocean Lanka plans to explore possibilities of acquiring an additional land plot in the Biyagama BOI Zone, where its current production plant is located at, to set up the facilities to manufacture synthetic fabrics.

Further, Dr. Au revealed that leading Japanese casual wear designer, manufacturer and retailer, Uniqlo, was acquired as a new customer of Ocean Lanka, recently.

"This can help us to penetrate into the Japanese market. Usually, we sell our fabrics to the apparel manufacturers who fulfil orders to leading brands in Europe and the United States," he said.

He also highlighted that Ocean Lanka has been able to establish itself as a one-stop shop serving all requirements of apparel manufactures.

"Today, we can fulfil any type of requirements from our customers. We are always working with our end buyers to develop new fabrics based on their requirements. For example, we have developed certain fabrics with special performances as required by customers, which include anti bacterial, water-resistant and heat-resistant properties," he elaborated.

In particular, the firm has increased its capacity in printing segment. Currently, Ocean Lanka has a capacity to produce 1,500 tonnes of fabric a month.

Dr. Au also acknowledged that its parent, Fountain Set Holdings, being a leading global knitted fabric manufacturer, has extended its technical support to Ocean Lanka to develop new products.

The firm also plans to commence a tree planting programme under its long-term sustainable plan to offset negative impacts from biomass fuel usage.

The shift to biomass from coal is seen as a positive step towards environmental sustainability as coal releases toxic chemical waste pollutants to the environment.

The firm recorded Rs.16.5 billion turnover in 2018 while its net profit surged by 23 percent over the
previous year.