---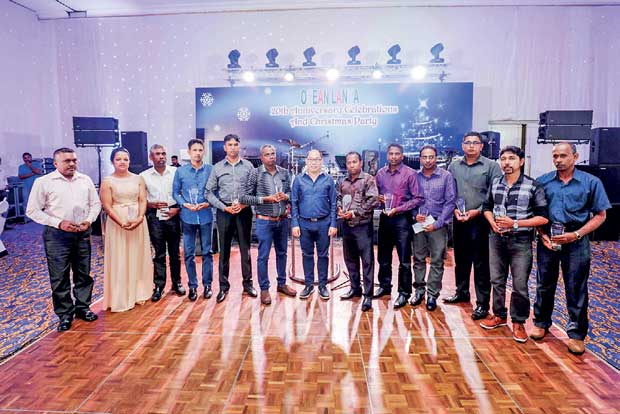 Managing Director of Ocean Lanka Dr. Austin Au flanked by 13 employees, felicitated for completing 20 years of outstanding service
Ocean Lanka which commenced its operations in 1996, celebrated 20 years of service in the clothing industry on the 27th of December 2016. The celebration was held at the Hilton Colombo, where several employees who completed 20 years of service were also felicitated.
Expressing his views on the growth of Ocean Lanka over the two decades, the Managing Director of Ocean Lanka Dr. Austin Au said, "Twenty years ago we started with only 150 employees and our initial production was at 150,000 kilos of fabric a month. Today we have more than 1900 employees and our production capacity has escalated up to a little over million kilos of fabric a month. And I'm happy to say that we have contributed Rs. 25 billion (US$ 172 million) to the country's economy within the last five years. Over the last three years we have invested more than US$ 10 million in plant, machinery and expansions. Currently we serve some of the biggest designer brands in the world including Victoria's Secret, Marks & Spencer, Adidas, Nike and Gap. We are truly elated by Ocean Lanka's long journey of success and the growth the company and its employees have achieved over the two decades."
After passing the 20th milestone, Ocean Lanka plans to increase its fabric production to cater to the demands of the European fashion brands, and reap benefits as Sri Lanka regains GSP+ facility. The company also aims for cost reduction while maintaining optimal quality through process reengineering and streamlining waste management. Moreover, Ocean Lanka has joined the global foundation programme called ZDHC (Zero Discharge of Hazardous Chemicals) and aims to reach the target of zero chemical emission by 2020, creating a holistic eco-friendly production zone, while contributing actively to the economy of the nation.