---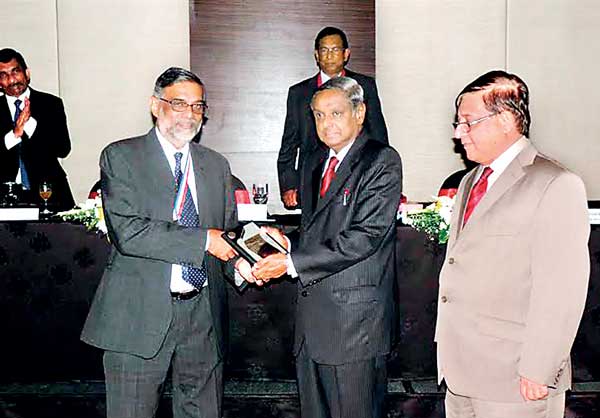 Front row from left: Prof. Rohana Kuruppu presenting a token of appreciationto OPA induction ceremony chief guest Prof. Ravindra Fernando in thepresence of General Secretary Eng. Nissanka PereraBack row from left: OPA President Elect Ruwan Gallage and Immediate Past
President Athauda Jayawardena
The Organisation of Professional Associations (OPA) held its 35th President's I n d u c t i o n C e r e m o n y a t C i n n a m o n G r a n d Colombo recently The OPA being the only professional organisation in Sri Lanka that embraces 46 professional associations,
had invited its member associates, government officials, private sector and industrialists to this gala ceremony, which was a stunning entertaining evening. Prof. Ravindra Fernando of Colombo University Medical Faculty was the chief guest. Prof. Fernando explained the forensic medical investigation methods and outcomes. He explained the salient points about the Rajiv Gandhi murder case and how forensic medicine could be useful in finding information for court decisions. He touched upon Father Mathew Peiris' and Sathasivam's cases. Fernando attempted to demonstrate the importance of professional approach in decision-making. The newly inducted President Rohana Kuruppu PhD addressing the professionals said that the country was slowly and steadily moving towards progress.
Therefore, he said it was time that the country recognizes the professionals. "At a time that the country is recovering from the war, there are a lot of things to do, as such, the professionals have a role to play. The government must mobilize professionals in their development programmes. He emphasized that the professionals should be committed to the national growth and assist in the development programme. Professionals should regain their past laurels and work to maintain that position. He urged the professionals to live up to it. Prof. Kuruppu mentioned that the OPA 'think tank' had a workshop on chronic kidney disease of unknown etiology (CKDu) recently and has compiled a set of recommendations which would be passed on to the government for discussion and necessary action.
A booklet titled 'Role of Agriculture in Food Sovereignty and Poverty Eradication' was launched in order to inform the public about the current situation in agriculture and future approaches to agriculture. Prof. Kuruppu said that during his tenure of office he would continue with the 'think tank' and generate innovative approaches to resolve people's concerned matters and requested the professionals to assist him in this regard. He further said good governance would be a major concern in today's context and therefore the OPA would organise a workshop to discuss to take this theme a reality. He said that he had an ambitious plan to re-engineer the buildings of the OPA and give it a new look and bring in more facilities to members. Prof. Kuruppu is an Adjunct Professor of the School of Fashion and Textiles of RMIT University, Australia and the CEO of Brandix College of Clothing Technology,
Sri Lanka. Prof. Kuruppu is the Chairman of the Textile Institute Sri Lanka Section headquarterd in Manchester, UK. He is a graduate in textile technology from the Derby University, UK and an honours graduate from Manchester. He has an MSc from the Strathclyde University, UK and Doctor of Technology from Open University Sri Lanka and Doctor of Philosophy from RMIT University, Australia. He has over 60 presentations and published articles and over 250 research-based dissertations b e t w e e n M a n c h e s t e r Metropolitan University and RMIT University. He was a former lecturer at the University of Moratuwa and Open University of Sri Lanka.