---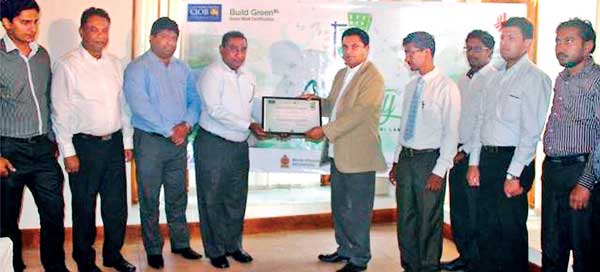 The Nuwara Eliya Municipal Council was recently awarded the Honorary Green Institutional Member status by the Ceylon Institute of Builders (CIOB) in recognition of the initiatives already taken in the area of green initiatives.

The Nuwara Eliya Municipal Council under the dynamic stewardship of its Mayor Mahinda Dodampegamage is focused to make the beautiful city of Nuwara Eliya one of the best cities in the country in terms of environmental sustainability. The mayor and his team are taking all possible efforts to preserve the natural beauty of the city and also to ensure all the massive development projects planned are in keeping with green initiatives.

The CIOB being the oldest construction related organisation in the country consists of architects, engineers, contractors, quantity surveyors, valuers, academics in the construction field along with others stakeholders in the profession.

The CIOB Green Mark Scheme is launched as an initiative to drive Sri Lanka's construction industry towards more environment-friendly buildings. It is intended to promote sustainability in the built environment and raise environmental awareness among all stakeholders in this field.

The CIOB already had awarded a number of organisations the Green Awards after a strict evaluation process. The CIOB will in the future evaluate all major construction-related projects of the Nuwara Eliya Municipal Council and award the CIOB Green Marks to those who met the criteria.

The technical staff of the municipality shall be provided with required technical assistance in order to upgrade their knowledge in the new initiatives related to green initiatives taking place in the world.
The Central Province Green Awareness project office too shall be located within the Nuwara Eliya area by the CIOB and this will enable the institute to share the knowledge and learning in the entire province.