---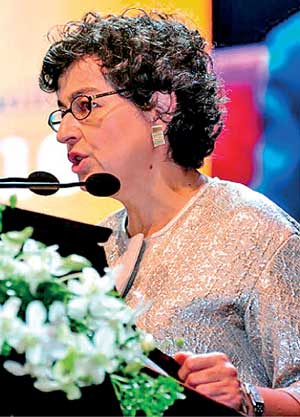 By Chandeepa Wettasinghe
The number of Sri Lankan small and medium enterprises (SMEs) that have conducted international transactions have increased to 56 percent in a span of 6 years, according to two surveys conducted by the World Export Development Forum (WEDF).

"In 2010, many companies, especially the small ones, were telling us that they were not part of international trade. We asked them in 2016, 56 percent of them told us that they have already done international trade," WEDF Executive Director Archana Gonzales said.

Over 80 percent of Sri Lanka's private sector is made up of SMEs, which enjoy extensive tax subsidies, but lack diverse financing options.
"If this is a first time exporter, it means that you have helped them break the psychological barrier of making the first external transaction and help make the small company business more viable," Gonzales said.
She added that increasing international transactions of SMEs allow them to diversify their product portfolios
and markets.
However, except for the rise of IT/BPO exports, Sri Lanka's exports and market mix has remained largely similar over the past couple of decades.
Gonzales noted that forums such as WEDF allow SMEs to 'speed date' with potential foreign partners, and create potential transaction lines up to US$ 50 million to US$ 80 million, as witnessed in Rwanda and Qatar respectively.

However, she refrained from stating how much investments in firm have materialized from WEDF events. "If it's a small company, even US$ 200,000 is a big breakthrough," she said.
Participants at the event were discussing that the dialogues started with foreign parties usually died out, as both parties forgot about extending them further in a few months.
Gonzales also said that she had no idea how much in future tourism benefits WEDF events would bring to a host country, based on how many foreign delegates revisited a country on holiday, based on their limited exposure to the host country at a WEDF event.