---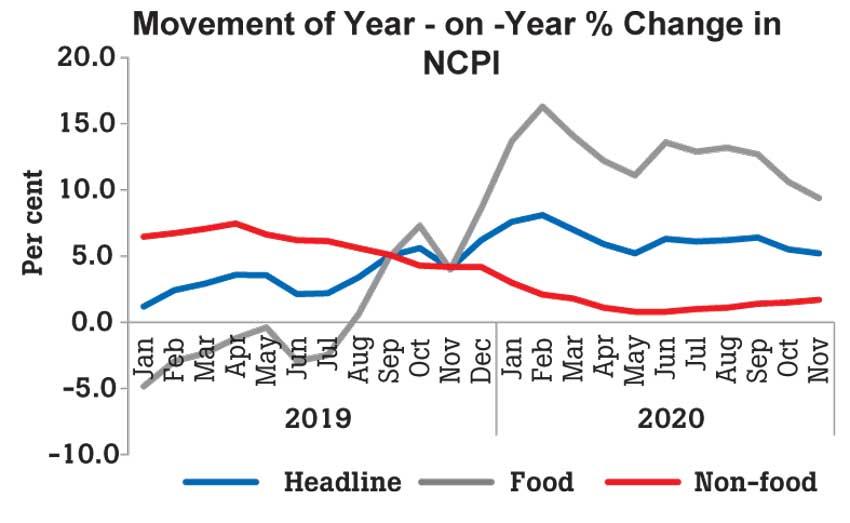 Core inflation unchanged from month ago at 4.5%
Sri Lanka's national prices eased in November from a month earlier, as food prices sagged due to underwhelming demand for goods amid people cutting back on consumption and some skipping in-store visits to supermarkets on fears of contracting the virus.

The National Consumer Price Index (NCPI) rose by 5.2 percent during the twelve months to November, decelerating from 5.5 percent in October.

Food prices rose by 9.4 percent year-on-year (YoY) in November, easing from 10.6 percent in October while on a month-on-month (MoM) basis prices of the food basket rose by 0.8 percent from 0.3 percent.

The prices of rice, big onions, coconut, potatoes, red onions pushed MoM prices higher while the prices of fish dropped the most as people stayed away from consuming fish over unfounded fears over contracting COVID-19.
The other products, which saw price declines in November were fresh fruit, sugar, eggs and chicken.
Meanwhile, the non-food prices rose by 1.7 percent YoY in November, slightly accelerating from 1.5 percent in October, while the prices rose from 0.1 percent to 0.2 percent on a MoM basis.

The so-called core prices measured barring the effects of often volatile items such as food and energy rose by 4.5 percent in the twelve months to November, unchanged from October.