---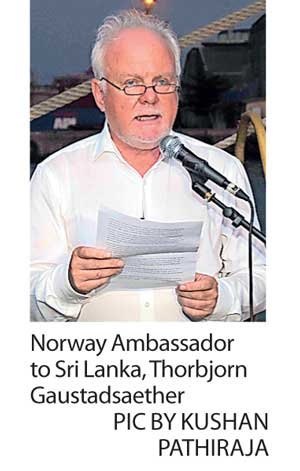 By Zahara Zuhair
Noting that the relationship between Sri Lanka and Norway started with links to the maritime sector, Norway Ambassador Thorbjorn Gaustadsaether, said that they would like to partner Sri Lanka in conserving and using the oceans, seas and marine resources in a sustainable way, under the Sustainable Development Goal (SDG) no - 14.

"Being a costal nation, Norway has a strong emphasis on the oceans for sustainable economic growth, and is engaged in the blue economy discussions and SDG no - 14 Life under water. We would like to partner with Sri Lanka in achieving this SDG, and also strengthen maritime business cooperation between our two respective countries," he said at the reception held at the Sorlandet sail ship recently. Going back to history, he said that the Asian region has for 150 years been important for their shipping industry and Colombo being one of the first.

"This industry was of significant importance when we got our independence from the union with Sweden. Ship owners had been complaining that the Swedish consulates did not take care of Norwegian ships. They hence wanted their own Norwegian consulates, which became very instrumental when we pushed for and gained independence in 1905. The new independent Government immediately started diplomatic activities and a number of consulates were opened. And Colombo became among the first in 1906. This was before cities like Karachi, Mumbai, Chennai and Calcutta," he said.
He said that maritime contact has been part of their relations ever since and a number of Norwegian ships have called on Colombo. "We had a whaling base in Trincomalee and Norwegian sailors have signed off and on from Colombo. And during the Second World War, a Norwegian ship was destroyed during air strikes on Colombo," he said.

He said that there are few maritime companies still operating in Sri Lanka, such as Wilhelmsen which is well established and DNV- GL which also is well into the maritime sector.
In the meantime, he said that Norway is today the world's sixth largest shipping nation and controls one of the largest merchant fleets and the industry accounts for a substantial part of their GDP. He said Norway is one of the very few nations in Europe with a complete maritime cluster, including ship building.
He said that shipping is increasingly integrated into a complex international logistics network, requiring sophisticated databases, surveillance systems and communication systems.
He added that financial services, brokers, research and education institutions are also important actors in the cluster, hoping that the cluster approach will also be useful in meeting future challenges.
As Norway will launch its new ocean strategy in 2017, he noted that one of the challenges will be the development of environmental-friendly and sustainable transport solutions.

"Today experiments are going on with ships being driven by solar power, and in 2015 the first LNG-powered short sea break bulk /cargo vessel was put into production. As well as the first battery-powered car ferry came into production," he said.