---
""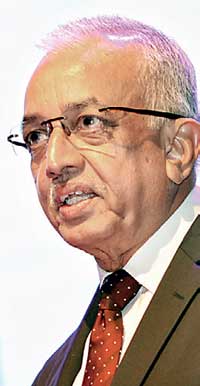 By Chandeepa Wettasinghe With the advent of the fourth industrial revolution through disruption, the public and private sectors will not be able to afford complacency, a government minister said yesterday at the 37th National Conference of Chartered Accountants. "The window for opportunity for doing is now. Are we too preoccupied with the short term to think strategically and disruptively?" Development Strategies and International Trade Minister Malik Samarawickrama challenged.
He noted that the current level of disruption is just the tip of the iceberg and is nevertheless changing the way mankind lives. "We have yet to grasp fully the speed and breadth of the new revolution. We are witnessing profound shifts across all industries," he said. Samarawickrama's comments come as the government is being lobbied heavily by the now threatened traditional businesses to curtail the development of disruptive models, instead of embracing disruption themselves. "In today's disruptive fast-changing world thinking in silos and a fixed view of the future, fossilizes. The changes to the issues and challenges must be holistic, flexible and adaptive," Samarawickrama noted. He noted that governments and institutions have to evolve as the revolution progresses. However, he also cautioned that it is the responsibility of every stakeholder to ensure that there are no setbacks. "Since there is so much uncertainty surrounding the level of disruption from emerging technologies, all stakeholders of global societies
, governments, businesses, academia and civil society have the responsibility to work together," he said. Samarawickrama also noted that the leaders of each sector have to act selflessly, honestly, quickly and with empathy to adapt to disruption. He also stressed that the natural environment must be protected through the entire revolution. Past industrial revolutions had created massive emissions, creating greenhouse gases, which have now led to global warming.