---

By Zahara Zuhair
To meet the appropriate skills requirement of cinnamon cultivation and manufacturing, a Cinnamon Training Academy (CTA) was opened in Kosgoda amidst a large and distinguished gathering, recently.

It is a public-private partnership initiative of the Spice Council of Sri Lanka and United National Industrial Development Organisation (UNIDO), World Trade Organisation (WTO) and Standard Trade Development Facility (STDF) with an allocation of US $ 830,000.
"At this academy, we will give the actors in and new – those who want to enter this industry – the knowledge and training from establishing a nursery of plants to maintaining a plantation, processing, value addition and export," said CTA Chairman B. Sarada M. de Silva.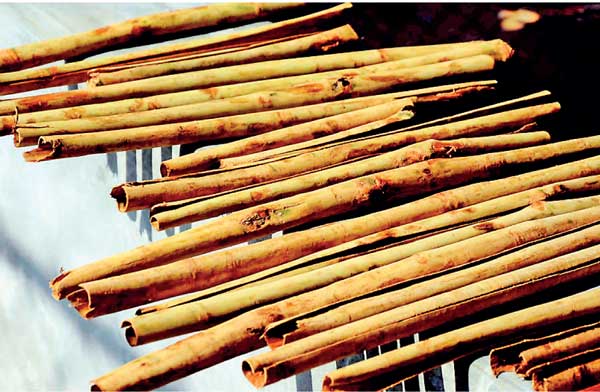 "Cinnamon is unique to Sri Lanka and the country holds a monopoly of cinnamon in the export market. This is the only monopoly the country holds. Sri Lanka produces and exports over 90 percent of the world's true cinnamon, Ceylon cinnamon," he noted.
He said that due to many activities undertaken by the government and the private stakeholders in the past, the demand for cinnamon had increased and the price had increased from US $ 5 per kilo in 2009 to US $ 11 currently.

However, he said that though the prices had virtually doubled, the industry had to contend with the drastic drop in quality.
"Sheer lack of good quality, high-priced grades of cinnamon saw quiet a number of orders not being fulfilled. A gazette was issued making SLS 81 standard compulsory for cinnamon exports. This was not implemented due to the Southern elections," he said.

He also made some requests from the government. They included releasing Rs.50 million of fund approved under the budget speech, expediting the implementation of stage two of the CTA project and releasing a land close by the academy to be used as a demonstration plot.

Meanwhile, Special Projects Minister Sarath Amunugama, who also attended the opening ceremony, pledged that the cinnamon industry would be taken to a US $ 1 billion industry, while stressing that priority should be given to products such as cinnamon to compete in the global market.
The CTA is now equipped to implement the National Vocational Qualification (NVQ) training programmes for occupations namely: harvesters, processors, factory officers and supervisors under cinnamon factory operations and field operations.

In addition, laying the foundation for the second stage of the project took place at the event.