---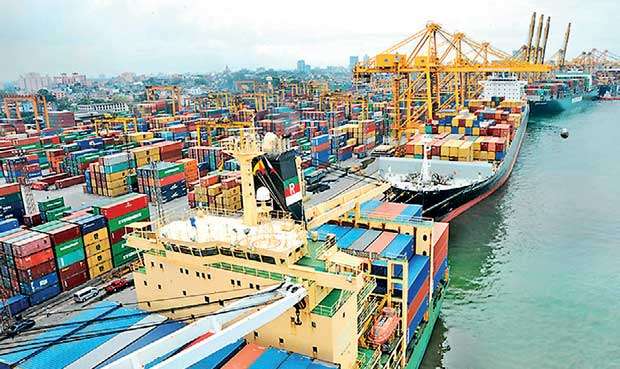 Heavy container traffic at the Colombo Port
Recommends maintaining status-quo of 60:40 ownership structure of shipping agencies
But says full foreign ownership could be considered for investments over US $ 100mn
Budget 2018 proposed to remove foreign ownership restrictions on shipping agencies and logistics firms
By Nishel Fernando
The final draft of the National Policy for Maritime and Logistics Sectors advocates Sri Lanka to continue with the status-quo of minimum 60 percent equity holding for locals in shipping agency companies as opposed to the 2018 budget proposal to liberalise foreign ownership restrictions of shipping agencies.

Ports and Shipping and Southern Development Ministry Secretary Dr. Parakrama Dissanayake last week presented the final draft of policy document to the Ports and Shipping and Southern Development Minister Sagala Ratnayaka.
It was highlighted in the draft document that the uplifting of the standards of shipping agency services provided to foreign ships as well as safeguarding the national interest with regard to employment, tax revenue generation, and protection of small and medium-sized businesses were the priorities of the government.
However, the draft document stated that 100 percent foreign ownership of shipping agencies could be considered by the ministry in consultation with the industry stakeholders for foreign investments over US $ 100 million.

"If a foreign liner shipping principal would require to own 100 percent equity of its own agency company in Sri Lanka, same can be encouraged, provided this will be subject to sizable investment by the shipping line no less than US $ 100 million and other investment criteria to be stipulated by the subject Ministry of Ports and Shipping in consultation with the stakeholders," it stated.

Finance and Mass Media Minister Mangala Samaraweera in the 2018 budget proposed to remove foreign ownership restrictions on shipping agencies and logistics firms saying that such a move would encourage foreign investments and enhance competition by reducing costs.

However, the Ceylon Association of Shipping Agents (CASA) and Ceylon Freight and Logistics Association (CEYFFA) objected to the move.

Also, the draft document proposes the government to introduce minimum standards for local shipping agents to ensure quality of service standards and compliance with code of conduct. Minister Ratnayaka is expected to submit the draft document for the approval of Cabinet of Ministers after obtaining consultations from industry stakeholders and the public.

Once Cabinet approval is granted, the Sri Lanka Ports Authority (SLPA) plans to setup a Maritime Promotion Bureau' (MPB) through a secretariat, to implement the policy document approved by the Cabinet.

The MPB will be chaired by a former SLPA official with representations from relevant ministries, State intuitions and industry stakeholders.

The policy document envisages development of Sri Lanka as a maritime, logistics and a supply chain hub from a transhipment centre.

The drafting of the policy document commenced under the leadership of former Ports and Shipping Minister Mahinda Samarasinghe with the involvement of 80 stakeholders.