---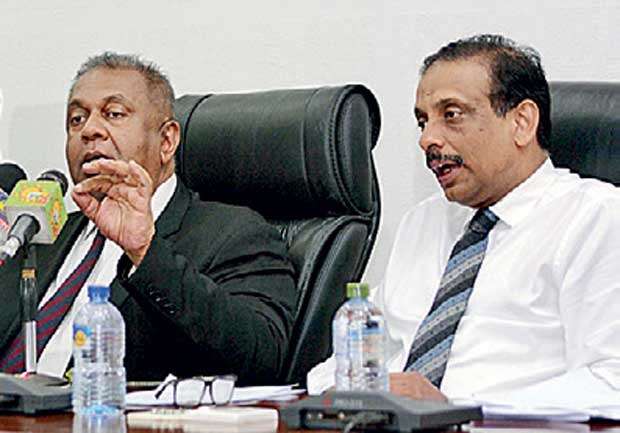 Mangala Samaraweera and S.R. Attygalle
Pic by Pradeep Pathirana
By Lahiru Pothmulla
Finance Minister Mangala Samaraweera yesterday said the outcome of the new Inland Revenue (IR) Act was positive though it has been only two months since it was implemented.

"It has been only two months since the Act was implemented on April 1st and we already have 69,000 new tax files. In the history of Sri Lanka where the population is 22 million, only 400,000 tax files had been maintained. Within two months, we saw an increase of files by 15 percent," he told a news conference held at the Ministry.
He said the new IR Act hopes to increase direct taxes to 40 percent from 18 and reduce indirect taxes to 60 percent from 82 by the year 2020.

The Minister said there was a trend in the country that only a certain group of people continued to pay taxes while the rest didn't."If everyone including lawyers, tuition teachers, architects and doctors pay their taxes based on their income, we can give more concessions," he said.
Addressing the news briefing, Deputy Secretary S.R. Attygalle said there was an increase of income taxes in May this year, after the new Act was implemented, in comparison with the previous year.

"If we compare in terms of income tax, there is an increase of Rs.5 billion roughly from last May to this May. This year the income tax target is Rs.30 billion and we are within that target. It is too early to tell but we have good results," he said.

It was revealed at the briefing that the income tax revenue for the year 2018 up to June 13 was Rs.276.7 million, which is an increase of 8 percent of the income tax revenue collected last year within the same period.