---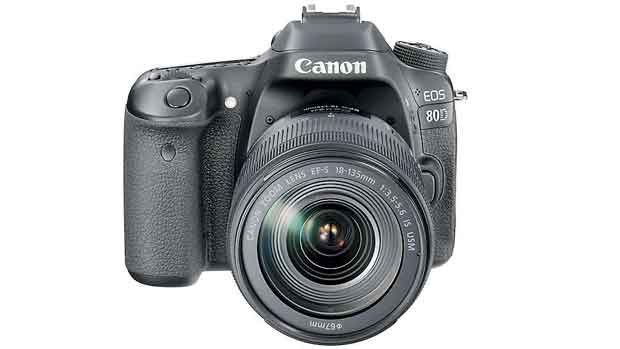 Canon launched the new EOS 80D digital DSLR camera recently, with advanced features to improve the professional photographer experience. The EOS 80 D which replaces the popular EOS 70 D comes with new EF-S18-135mm f/3.5-5.6 IS USM kit lens compatible with the newly developed Power Zoom Adapter PZ-E1.
"We are already taking pre orders for the EOS 80D and the model will be available shortly at the showroom," said Suresh Herath, General Manager of Metropolitan Photohub Pvt Ltd, which is the sole authorized distributor for the full range of Canon cameras and lenses in Sri Lanka.
With Canon's advanced imaging technology, shooting vivid and expressive Full HD 60p movies is made incredibly simple on the EOS 80D, especially with its enhanced AF system. Dual Pixel CMOS AF technology, also available on Canon's newly launched flagship EOS 1D-X Mark II, enables users to switch focus from a foreground subject to a background subject quickly and simply by touch focus on the vari-angle touch panel. With Movie Servo AF Custom Speed, users can achieve focus racking with adjustable AF speeds of 10 different steps, allowing videographers more flexibility for creativity when filming to achieve cinematographic effects.
New Creative Filters have also been added to create new looks for videos. These filters include Dream, Memory, Miniature, Old Movies, and Dramatic B&W.
Together with the EOS 80D, Canon has launched a new kit lens, the EF-S18-135mm f/3.5-5.6 IS USM lens, along with additional optional accessories geared towards enhancing the usage experience for photographers. The new kit lens provides zoom range flexibility and is equipped with a new Nano ultrasonic motor (USM) to achieve high-speed, quiet, and smooth AF for shooting both stills and movies.
The EOS 80D takes imaging quality to the next level with features such as an all-cross type 45-point AF system, DIGIC 6 image processor with a 24.2-megapixel CMOS sensor, and ISO speed expandable to 25,600.
"Following the success of the EOS 70D, Canon continues the quest in pushing the limits of imaging quality. The new Canon EOS 80D empowers photographers with greater creative possibilities, and will appeal widely to photography enthusiasts looking to bolster their photography skills to the next level," said Edwin Teoh, Head of Marketing, Singapore Operations, Canon Singapore. "Armed with a new kit lens and enhanced features such as the all cross-type 45-point AF system and 24.2 megapixel CMOS sensor, the EOS 80D is primed to deliver picture-perfect clarity and high image quality in every single frame."
The new EOS 80D boasts an all cross-type 45-point AF system, with f/8 support at 27 points. This is a significant leap from the previous all cross-type 19-point AF system available on the EOS 70D. Additionally, the AF area has also been widened both horizontally and vertically, enabling higher precision in tracking subjects in movement. With an increased minimum luminance to EV-3 at the centre AF, photographers can be confident of the EOS 80D performance even in low-light conditions.
With its 45-point AF system, users have greater versatility and control in situations where there are unpredictable subject movements by toggling between Single-point AF, large zone AF, or 45-point automatic selection.
The new EOS 80D also comes equipped with an intelligent viewfinder with approximately 100 percent coverage, a first in Canon's mid-range DSLRs. The intelligent viewfinder enables users to easily view useful information such as AF areas, aspect ratio line, electronic level, flicker detection, et cetera. With the ability to check the image range in its entirety, photographers can focus on their desired picture composition without worrying about unintended objects at the edge of the image (common in DSLRs with a smaller viewfinder coverage area).
The EOS 80D is armed with an advanced AF system and a new mirror drive mechanism that reduces mirror bounce, in turn reducing vibration and shutter sound for faster and quieter continuous shooting at up to 7fps. These capabilities make the DSLR the perfect companion for a wide variety of occasions, from action sports to events where silence is important, such as a theatrical performance.
Taking performance a notch up, the EOS 80D is equipped with a new 24.2-megapixel CMOS sensor which renders higher resolutions images in sharp detail. Paired with the fast and powerful DIGIC 6 image processor, and ISO speeds of up to 16,000 (expandable to 25,600, or 12,800 for movies), users can obtain consistently high quality images under varying situations, including night photography, wildlife, sports, or indoor shots where using flash is not suitable.
The EOS 80D is armed with the new Canon EOS scene analysis system, capable of analyzing AF, Auto White Balance, and Auto Exposure to determine the type of scene being composed and adjusting the optimum system settings for the desired image. The incorporation of the 7,560-pixel RGB + IR metering sensor in EOS Scene Analysis also addresses high frequency light flickers imperceptible to the human eye. For indoor shoots under artificial lighting, enabling the anti-flicker mode helps users with better control of their images to minimize irregular exposure and colours.
The new Colour Tracking AF feature intelligently seeks out AF points by detecting skin tone, thus placing priority on human subjects when it comes to focusing. This improves accuracy of auto exposure, bringing to focus the faces and expressions of subjects when taking portraits.
Canon Digital cameras are sold and serviced exclusively by Metropolitan Photohub (Pvt) Ltd.