---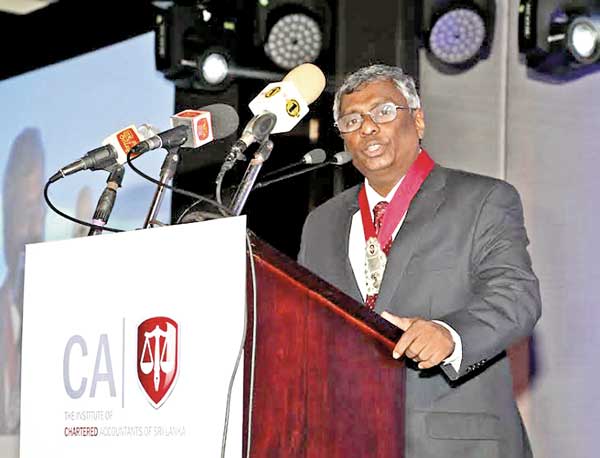 New Institute of Chartered Accountants of Sri Lanka (CA Sri Lanka) President Lasantha Wickremasinghe recently unveiled a four-point plan for the next two years, which, according to him, will help the institute and the accounting profession remain at the helm.
Delivering his inaugural address as the 23rd President of the institute, in the presence of Speaker of Parliament Karu Jayasuriya, government ministers, deputy ministers, business leaders, international and regional accounting personalities, Wickremasinghe said that his new council will strive to ensure that all members of CA Sri Lanka will conform to the highest ethical standards because ethical behaviour and professional approach to all issues are crucial.
"To be a great profession, all chartered accountants should be highly skilled not only technically but also with other soft skills such as analytical, communication and interpersonal skills to build trust and confidence among the community we serve. Our members should truly be committed to the highest standards of ethics and good social behaviour and we will continuously upgrade our skills, relevant to the developments in the environment in which we work, as this is paramount," Wickremasinghe said.
He noted that a profession needs a support structure, provided through a stable body such as CA Sri Lanka and in this context, the institute will focus on four areas.
Accordingly, point one will be to provide members with the relevant information and opportunities, to develop skills in new areas, which continuously impact the profession without forgetting the core competencies in accounting systems, audit and tax, followed by the second area, which is to enhance the institute's involvement as well as support the business community and the government.
The third area of focus will be to enhance CA Sri Lanka's international prestige through a new concept called 'cooption', which will signify collaboration with respect while engaging competitively with other accounting bodies and institutions, in identified locations in Sri Lanka and the world. The fourth area of focus will be to enhance the quality of training and education and continuous development of examination processes to ensure the basic tenants and principles are well ingrained in future chartered accountants.
Wickremasinghe also extended his institute's wholehearted support to the government, in its aim to help Sri Lanka achieve economic prosperity, which the government hopes to reach while maintaining good governance principles.
To achieve the first objective of enhancing members' knowledge and skills, Wickremasinghe detailed that the institute will develop and enhance the small- and medium-sized practices, to ensure Sri Lankan SMPs are second to none in the world.
"We will not forget the basic accounting systems, audit and tax on which our work is based. To develop our profession further, we will set up a preliminary research support facility to coordinate research in areas of accounting and auditing, in collaboration with universities and research bodies," he said.
A new scholarship scheme will also be established to attract students from different A/L streams and those who excel in extra-curricular activities.
Further, in an effort aimed at enhancing the services provided to CA Sri Lanka stakeholders, the institute will develop a core information system, which will be both efficient and dynamic for the benefit of all stakeholders including the institute's members and students.
"We will do everything needed to maintain and enhance the accounting profession; as this is our strength and this is our expertise," he emphasized.
Wickremasinghe noted that the success of the chartered accounting profession will depend on the respect that chartered accountants will have from the business community and the government.
"The present international and local environment is crying for the need of 'forensic' thinking. Traditionally, we focus on the overall view of the financial statements and the systems. Now it is time to assist the government, public and the business community to prevent fraud and corruption. We plan to introduce a programme in forensic auditing for our members to ensure the public expectations are met. Not only local but international acceptance is paramount to our continued success," he added.
The new CA Sri Lanka President also hoped to further engage with international accounting bodies such as the Institute of Chartered Accountants of England and Wales (ICAEW), Chartered Institute of Management Accountants (CIMA), Association of Chartered Certified Accountants (ACCA) and CPA Australia, among others to enhance its global standing in the accounting world.
"Every country, organisation or a family needs a younger generation to continue its existence. We need highly intelligent and skilled students for our continued existence.
There is a debate whether we should focus on the number of students or quality. We believe it is the quality of students that counts," he said.
Wickremasinghe said that the institute will formulate strategies towards this end through teaching institutions and bringing modern examination methodologies, while training structures will be updated to develop a core group of exceptionally talented students.
"Talented students of our institute hold top positions in the business community which gives us prestige," he said.
Wickremasinghe said that the journey ahead will not be an easy one. "But I am certain with your support we will be able to defeat the challenges and convert them to opportunities and thereby help our profession and institute to remain at the helm of the accounting profession," he said.
"Over the next two years, the new council, my Vice President Jagath Perera and I will commence a new journey towards greater partnerships with our existing stakeholders as well as new stakeholders," he said.
Wickremasinghe said that as the new council, they are committed to ensure that CA Sri Lanka remains at its distinguished standing while being the torch bearers of the accounting profession.
"But the journey to be better cannot be achieved alone. It is with the support of everyone that we will achieve success. To reach our destination of success, I call on my fellow members, students and staff of CA Sri Lanka, to come onboard and help us in our journey to take CA Sri Lanka to greater heights," he added.