---

New Anthoney's Farms has initiated a major expansion strategy to allow the company to enhance its products offered and significantly increase its present capacity in all its operations, ranging from incubation and hatchery, farming through to processing and rendering amongst various others, fully equipped to cater the growing demand.

This is further to its organic success and highest expertise of supplying safe, fresh, high-quality meat products, through ongoing priorities in best practices and implementing modern, state-of-the-art technology. With the vision of becoming Sri Lanka's leading poultry producer, the company takes pride in having advanced farming and breeding mechanisms, high priority on animal welfare, processing technology, all on par with world standards. This is well reflected in its certifications received such as GMP, HACCP and ISO-22000-2005 from Sri Lanka Standards Institution (SLSI), including various other international recognitions.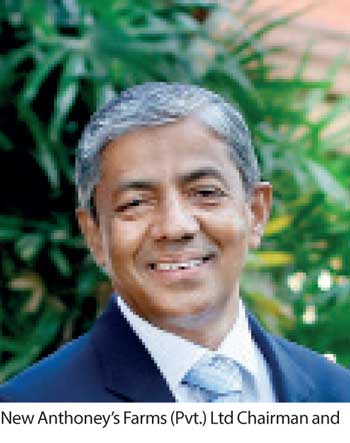 The poultry producer has set out clear, auditable and enforceable standards to help guarantee the safety and humane treatment of chickens. These standards are continuously enhanced through ongoing investment in best practices, implementation of modern technologies, upgraded facilities and through the adoption of new methods of production. Its tech and equipments are mostly from Europe, USA and likewise.
"The quality of the day old chicks delivered from our present hatchery is outstanding and our farming, production, supply chain and distribution activities are undertaken with absolute commitment to safety and quality. Our employees are encouraged, and expected, to act on any concern they may have to improve our food safety practices," said New Anthoney's Farms (Pvt.) Ltd Chairman and Managing Director Emil Stanly.
"As part of the company's strategic plan and direction, this year we've invested heavily in sustainable machineries and plants to cater to the growing demand. We are continuing to build upon our strong culture of food safety and we are confident in becoming Sri Lanka's leading poultry producer in the coming years," he further added.

New Anthoney's Farms today has outgrown its production in all its operations, while its new greenfield hatchery complex will be sited remotely for enhanced bio-security. With the capacity to incubate 260,000-280,000 day old chicks in four hatch days, the new facility will be equipped with 12 'SmartSetPro' setters, each with a capacity of 76,800 eggs and eight 'SmartHatchPro' hatchers with a capacity of 19,200 eggs per hatcher.
It will also include a complete, purpose-designed HVAS system from Pas Reform, comprising of air handling units, pressure controls, exhaust and inlet ventilation and a complete air ducting system, as well as the latest 'SmartCenterPro' hatchery management software.

New Anthoney's Farms started its commercial operations in 1986 and has ever since experienced an organic and progressive growth as a key supplier of quality, hygienic meat products for the consumer market. The company has over 650 direct employees and a total of over 1,000 including those indirectly employed and boasts a vast corporate clientele serving prestigious names such as KFC, McDonalds, Perera and Sons, Cargills Quality Foods, Keells Food Products, Norfolk among many others.